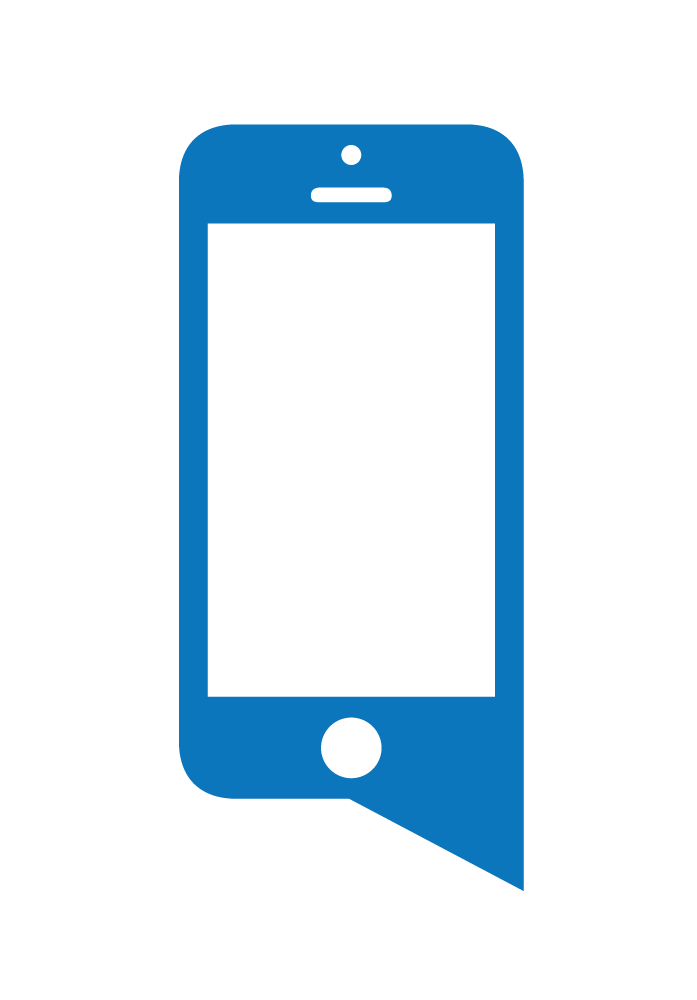 Mobile messaging
Create SMS, MMS and push notification campaigns in seconds.
SMS marketing is a technique that uses permission-based text messaging to spread promotional messages. Unlike many other marketing channels, SMS marketing is requested by customers, which means that the level of engagement brands see from customers through SMS is extremely high. 90% of text messages are opened within 3 minutes of being sent. This means that when brands have a message that they want their customers to not only see, but immediately they're turning to SMS marketing. Everything about SMS marketing is trackable, from which customers successfully receive a brand's message, to which customers redeemed the brands SMS offers.
Sample SMS Campaign
User texts AWARD to 51879 to vote for their favorite award show.
Standard message rates apply
36%
Average SMS CTR
Compared to 6-7% for email
10x
SMS coupons more likely to be redeemed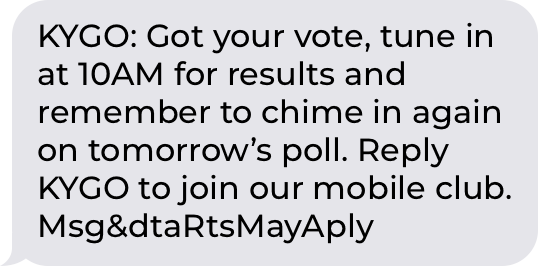 3 min
90% text messages opened
80%
People currently using texting for business
Most effective during 10am–8pm
Contests & Promotions
Create winning campaigns. Increase customer engagement and drive revenue through contesting – create a sweepstakes, an instant win contest or send them to a mobile site for a multichannel experience.
Loyalty Clubs
Keep in touch. With a 99% open rate, text messaging is the easiest and most effective way to interact with your customers. Build your mobile club in seconds and start sending and scheduling messages straight from our platform.
Smarter Segmentation
Data brings relevance. Flexible, custom data capture through the ability to collect and tag customer metadata supports intelligent and sophisticated marketing. Create automated lists, dissect your data and use what you know to send the most relevant messages to your subscribers.
The Stream
Have a conversation in realtime. Queue inbound messages for review and response and stay on top of your user engagement with ease. Inbound texts can instantly be replied to via SMS and the full conversation log is always captured.
Reporting
Analyze your results and track progress. You worked hard on creating interactive campaigns – you deserve to know exactly how you did. Marketron's reporting capabilities enable you to pull custom reports in real-time based on any metric.
Integrations
Enterprise APIs readily available. Omni-channel all in one place: manage SMS, MMS and push notifications in our easy-to-use platform.
Messaging Infrastructure
Speed when it matters. Scale on-demand. The greatest campaigns succeed or fail on the last mile of delivery. Our messaging backbone has more direct carrier connections, higher throughput and greater scale effciencies than any other, in the US and globally.

Marketron's Mobile Messaging solution can be purchased as a stand-alone product or combined with other Marketron digital advertising services to optimize digital and multi-media campaigns.
Ready to Learn More?
For Sales Inquires, please fill out the following form or give us a call at