The global COVID-19 pandemic has dramatically altered daily life, sending a shockwave of uncertainty through the global economy. During this period, businesses and consumers have been forced to change.
People are altering the way they shop and the way they consume media. Businesses are being forced to operate differently with the hope of staying afloat. Many are shifting to online-only sales, with delivery or curbside pickup.
As a salesperson, you are uniquely positioned to guide your clients through this period of uncertainty and to help advertisers maintain a strong connection with their target audience. Now is the time for advertisers to get creative and adjust the way they reach people.
User Behavior in a Changing Environment
Since the outbreak, the amount of digital content being consumed on a global basis has sharply increased as people stay at home and continually search online for the latest information on how the coronavirus will impact their lives.
How many new cases have been found? How quickly is the virus spreading in local communities? Where can supplies and services be found? The virus isn't a big topic – it's the only topic – and new data is coming out is showing the dramatic effect the pandemic is having on digital consumption.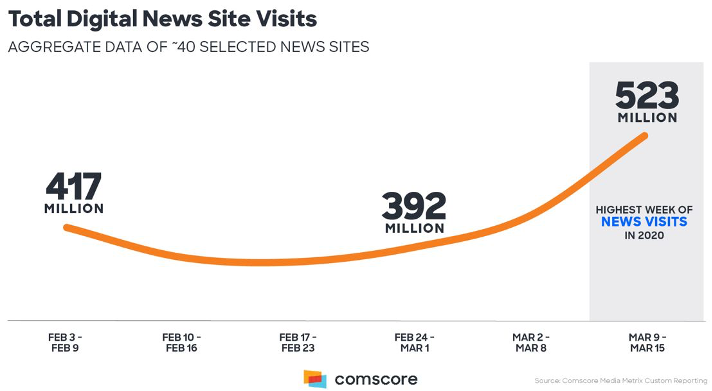 Graphic courtesy of Comscore
The rise in consumption is crossing over to broadcasting as well. Global marketing research company, Nielsen, reveals that 83% of Americans are spending the same amount of time, or more time, listening to the radio in direct response to the COVID-19 virus outbreak. Statistics like this one point to a market where advertisers can maintain a strong connection with listeners through airtime buys, while coupling those spots with digital advertising to reinforce the message.
COVID-19 is driving a demonstrated increase in digital media consumption. Suddenly, in a time when things may look grim, this growth holds promise for advertisers. There are opportunities across many industries for advertisers to be successful, but it may require pivoting their strategy.
Can the advertiser deliver goods or services to customers right now? Or, should the advertiser focus on staying top-of-mind with consumers? Deciding whether to follow a path based on conversions or switch to a brand awareness approach is the key to emerging victorious post-virus.
Opportunity to Maintain Brand Awareness
Certain industries have been hit particularly hard by COVID-19, especially businesses selling products or services primarily out of physical locations. If these types of businesses are not in a position to change their model to deliver goods to people online, or by delivery or curbside pickup, benefitting from digital advertising may be hard to envision, but there may be a silver lining to the situation.
The statistics above suggest there is an opportunity for advertisers that are facing an inability to sell to their customers to maintain a connection with them. With a potentially larger than normal online viewing audience, pivoting from conversion-focused to brand awareness campaigns can make a lot of sense.
Perhaps the biggest challenge facing sales reps right now is keeping their current clients engaged and focused on their advertising message. With sales stemming from a physical purchase-point in a steep freefall, suggesting to an advertiser that they focus on the top of the funnel may spark interest and reinvigorate their desire to continue running ad campaigns. By top loading the brand in the consumer's mind, the advertiser can stay relevant and sustain momentum that has been built in previous campaigns.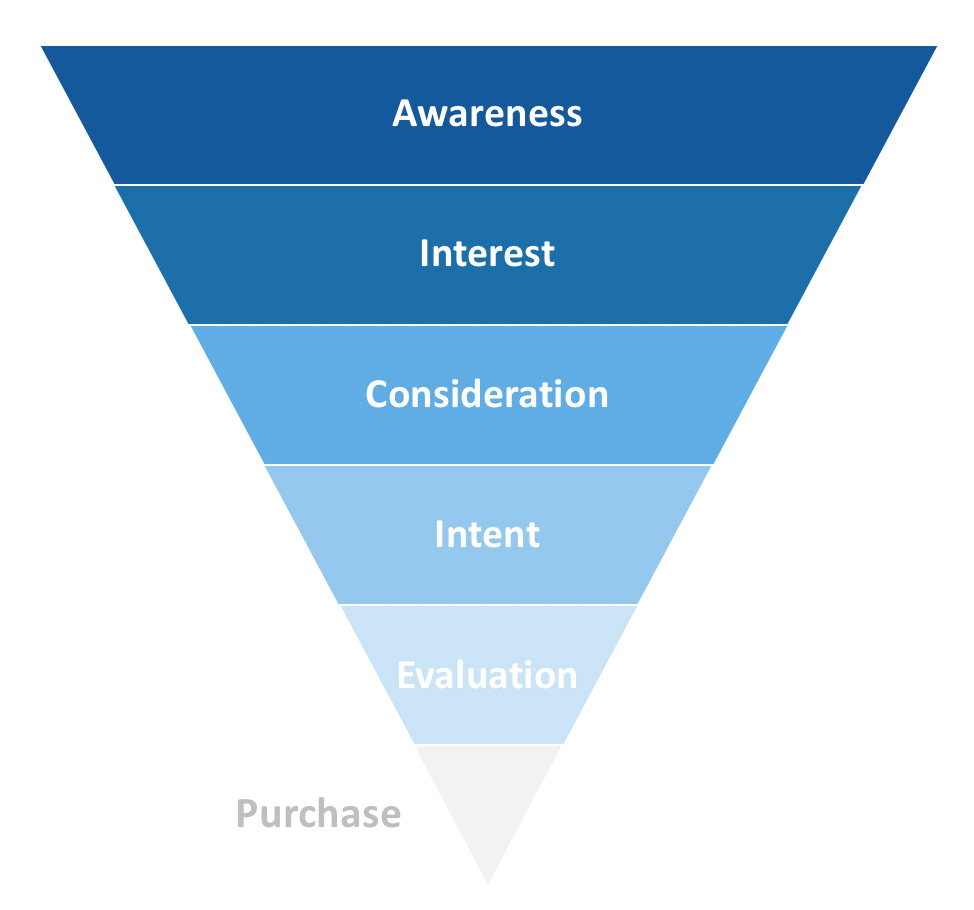 When an advertiser decides to cut back on campaign spending, they run the risk of fading from the minds of consumers, which can lead to losing both current and future sales. A sustained voice can lead to solidifying a share of the marketplace.
Independent media consultant, Brad Adgate, recently touched on this idea in an article he contributed to Forbes, saying "there have been a number of studies going back nearly one century that point out the advantages of maintaining or even increasing ad budgets during a weaker economy. Those advertisers that maintained or grew their ad spending increased sales and market share during the recession and afterwards."
How Digital Ad Tactics Can Serve a Brand Awareness Campaign
Keeping an advertiser' brand in the minds of consumers can lead to stronger results after an economic crisis. Tactics to consider in a brand awareness strategy include:
Display: Target an audience with banner ads that reinforce the advertiser's brand so that those goods or services and the association to that business stick in the minds of consumers as they scroll though the news of the day.
Video: Captivate people's attention and create an immediate visual connection while they are at home consuming more media – they'll remember that spark down the line.
Over-the-top (OTT): As subscriptions increase and people install more internet-connected devices in their homes, solidify the brand with commercials – the local car dealership may not be selling many vehicles right now, but cruising to work in a new car later this year sounds pretty enticing.
Geofencing with past locations (also known as geocookie): Reach people at home while reminding them that the local businesses they normally visit will be ready for them to walk through the door once the coast is clear – the bank in town isn't meeting with customers right now, but soon they will be able to sit down to discuss that loan in person – and maybe it will come with a great rate.
These are just a few examples, consider similar alternatives that will keep advertisers top-of-mind with consumers.
Messaging and Creative Adjustments to Support Brand Campaigns
Messaging and creative in brand awareness campaigns must also be considered. Avoid images of crowds, restaurants and busy shopping centers. Instead, use images of outdoor locations, families and couples enjoying time together, or individuals doing "approved" activities. Messaging should be focused on offering support for customers and the local community. Another option is to promote the steps advertisers are taking to support the community. For example, if they are supporting local non-profits, health care workers, or making an impact in another way, share that message.
Keep Business Moving by Instituting a Conversion-focused Campaign
Many advertisers have shifted their business models to get a product or service to people in a time of need and are well-positioned for conversion-focused digital advertising campaigns right now. This includes businesses that may now be offering goods and services online or have added delivery or pick up options. Let an isolated audience know the advertiser is there for them in their time of need.
How Digital Ad Tactics Can Serve a Conversion-focused Campaign
Businesses that have been able to get creative about the way they provide their goods or services to customers are in prime position to tell people about it and maintain sales without taking such a big hit in the midst of the uncertainty.
Display: Reach an audience with banner ads that relay the message that the advertiser can supply consumers with goods or services despite current restrictions – the local pharmacy may be closed to foot traffic, but they recently added door-to-door prescription delivery.
Video: Show people with visual advertising that while they are at home that an advertiser can deliver products today when they need them – demonstrate how great a product is and then let consumers visualize it ending up in their hands without having to travel to get it.
Over-the-top (OTT): Take advantage of growing numbers of subscriptions and more internet-connected devices in homes by reaching consumers with a well-produced commercial explaining that the advertiser is open for business – with limited options for consumers, this visual presentation could trigger a sale. A family is watching a TV show, when an ad appears for a furniture store offering a sale and free delivery. The couch they are sitting on looks worn, but suddenly they can envision upgrading the family room.
Geofencing with past locations (also known as geocookie): Target neighborhoods where people live with location-based ads reminding them that much-needed goods or services are just around the corner – a person's favorite restaurant may have closed the dining room, but curbside pickup is available all day.
Search Engine Marketing (SEM): Let consumers know while they are searching in their time of need that a business is open or has changed the way it operates to fit the current climate – A company specializing in edible arrangements has added delivery drivers to the staff and is able to get a beautiful bouquet to a family member who is celebrating a birthday, but is unable to have a party with friends because of current restrictions.
Businesses that can adapt have the opportunity to connect with a growing digital audience, which can make the extra effort pay off in spades.
It's Time to Tweak Location-based Advertising Campaigns
People are reducing time spent in public leading to a shift away from location-based advertising in many cases, but there are still opportunities to reach people.
Consumers are staying home, businesses have closed or altered hours of operation and foot traffic has significantly decreased. While these situations are challenging, there are workarounds for them.
Consider moving geofences to new areas as user behavior changes and public gathering reduces. Try using geofencing with past locations (also known as geocookie) to reach an audience that visited a location prior to restrictions based around COVID-19. Remember the neighborhood hardware store? It's open and may be preferred by locals to the big box store across town. What about a nearby gym or studio offering online classes? Let consumers know what's happening just down the street with geofencing.
Adjust the Creative for Conversion Campaigns Too
Similar to brand awareness campaigns, the imagery and messaging should avoid anything that appears insensitive or doesn't take social distancing into account. Messaging should have clear strong calls to action. Advertisers may also want to consider promotions to encourage action. For example, offering free delivery, discounts on larger orders and other incentives may increasing conversions.
The List of Advertisers Seems to Be Shrinking
Many of the "go-to" industries that a sales rep would normally tap into are feeling the pinch of the economic slowdown, including restaurants, events, travel, sports and fitness.
When thinking about the situation in practical terms, the list of businesses to call on begins to dwindle and the situation may feel grim. However, when looking at things a bit closer, there are some examples of business-types that can be described as "in-demand" with rising online search metrics, according to data from wordstream.com.
Grocery – These businesses not only supply necessities, but consumers want to know about special offers, such as curbside pickup and delivery.
Business Management – People in many cases are scrambling to get a hold of office and packing supplies now that they are working from home or shipping more products to customers who can't visit a store location. Searches for office supplies in the wake of COVID-19 have increased by 90%.
Health/Medical – Don't neglect calling on this client, especially if they are offering expanded or alternative services (such as appointments via video call) or offering the delivery of medication. Search ad conversion rates for pharmaceuticals have increased by 47% in past weeks.
Finance – With the global markets in a tailspin, people are looking for guidance from professionals specializing in money management. Search ad click-through rates are up 23% in this industry since COVID-19 began spreading.
Gifts/Flowers – Restrictive guidance on social interaction is leading to loved ones, especially the elderly, being isolated and alone. Gifts and flowers are a staple when it comes to telling someone you are thinking of them. Since the outbreak began, online searches have produced a 43% increase in conversion rate for floral arrangements.
Help Advertisers Choose the Best Path Forward
Whether an advertiser is adjusting their business model or weathering the storm, there are options available, and as a salesperson, you can guide them down the right digital advertising path. The crucial part is to be proactive and reach out with ideas and ways to support them.