While the idea of adopting digital ad products might feel overwhelming, it doesn't need to be. There are three big reasons to make the leap and add digital products to your inventory:
Your clients need and want digital ads; in fact, they are likely already buying it from someone else.

You already have deep relationships with your clients, making you the best person for the job.

Digital ads will drive results and renewals, making your clients (and you) a lot of money!
Here are some surefire tactics to get your sales team up and running with digital advertising:
Display Advertising.

These are banner ads that are served across websites and apps to reach people on desktops and mobile device

s. They offer the unique ability to deliver targeted messages to audiences with three layers of in-depth targeting — geography,

demographics

and audience interests.


Video Advertising.

These ads play before, during and after video content viewed on website

s and apps via desktop and mobile devices. Video is immersive and flexible, making it ideal for businesses that are visually interesting, have a surprising characteristic or a distinct vibe that could showcase well in this medium.




Geofencing

. This techniq

ue delivers banner and video ads based on specific geographic targeting to audiences while they are using apps and mobile websites inside a defined geographical area, known as a fence

. One example might be a farmer's market group that uses targeted display ads in the area surrounding the market

to build awareness and encourage attendance.


O

ver-the-Top (OTT) Video Advertising

. These spots are delivered during internet-streamed television or movie services, rather than via cable or satellite television. OTT ads are ideal for clients who already have quality commercial content and/or the resour

ces to create it.


Mobile Messaging

. Mobile messaging uses text messages to connect with opted-in consumers. In a world where people rarely roam without a phone, mobile messaging is a reliable and modern marketing tactic – perfect for communicating with au

diences who are already highly engaged and loyal. 
Find out a lot more about these tactics with our new ebook!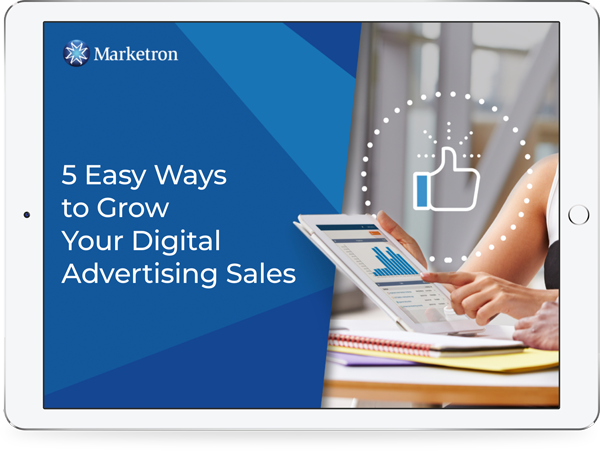 In our ebook, "5 Easy Ways to Grow Your Advertising Sales," we take a much deeper dive into each of these five digital ad categories and give you everything you need to know to answer advertisers' questions. If you are ready to kickstart or grow your digital advertising sales, click here for your free copy!