As businesses start to reopen, and the country slowly reopens, there is still uncertainty about how businesses of all types will operate. As people try to find out more information on what is open and how certain restrictions is are affecting the ability to obtain goods and services, consumers are turning to search to find the answers.
People are searching for business hours, services offered, supplies that are in stock, whether curbside pickup is available and what a business is doing to comply with current health guidelines, making search engine marketing (SEM) a sensible tactic for advertisers to use right now.
Advertisers should keep in mind 5 things to avoid when running a search campaign. By avoiding these pitfalls, businesses can help ensure that they get the most out of the budget during a time when dollars are at a premium.
1. Advertisers Shouldn't Search for Their Own Ad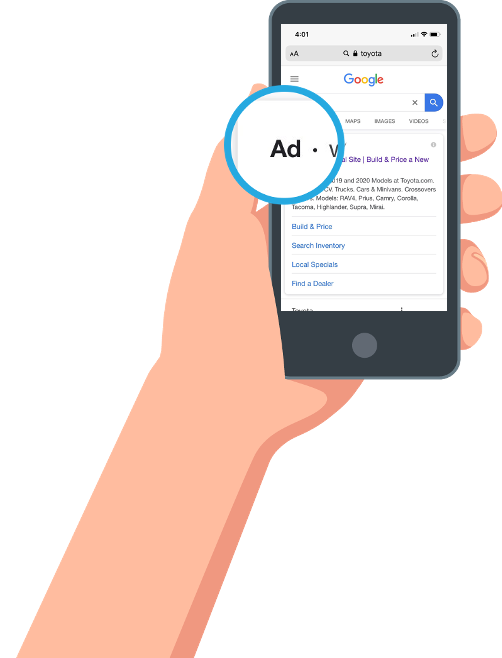 While it is tempting for an advertiser or a sales professional to look for an advertisement that they have been working on after it goes live, doing so is problematic.
The first problem with searching for their own ad is that it can cause the advertisement to appear less frequently for actual customers because an impression was taken up by them when they searched for it. Second, if an advertiser finds their ad and then clicks on it, they end up paying for a click that could have led to a conversion by a customer.
Third, because SEM is an auction-based system, the ad isn't going to appear every time someone enters the relevant keywords into a search engine; by doing this advertisers risk reducing the visibility of the ad for qualified customers. If the ad does eventually appear for them while searching for it, that means it's probably not coming up for a potential customer who is searching for a product or service that their business can supply.
2. Don't Use Keywords That Aren't Relevant to the Campaign
People often make the mistake of attaching too many keywords to their SEM campaigns, figuring if they include as many keywords as possible that the ad will appear for a larger number of people.
Example:
Bob's Lawn Care sets up a campaign and includes numerous keywords that have to do with home improvement, thinking that any time users search for ways to fix up their house the ad for the lawn care company will appear.
Problem:
The negative effect of this strategy is that by attaching irrelevant keywords to the campaign, Bob's budget can quickly be eaten up by people clicking on the ad who are not likely to be converted into customers. These people are not searching for lawn care to begin with and don't qualify as potential leads.
This is especially important as the country deals with COVID-19. If people feel like they have been led down the wrong path by an ad during a vulnerable time, the advertiser may never gain that person's business in the future.
Still not convinced? Consider this – Google frowns on campaigns with large numbers of irrelevant keywords and may suspend the ad or the ad account if a business is caught instituting this practice. Plus, the ad may not run because the quality score will be low.
3. Don't Forget to Leverage Negative Keywords
Advertisers can impact whether qualified people are seeing the ad with negative keywords. Negative keywords are words or phrases can be used to hide the ad from people who are not likely to become customers.
Here's an example of using negative keywords:
Bob's Lawn Care is running an SEM campaign that advertises ways to make grass greener throughout the year. Bob offers a variety of ways to accomplish this, but he doesn't offer pest control. Let's now assume that a user is searching for a lawn care company that offers pest control. Bob doesn't want to use up his SEM budget by having his ad to appear to a person who is searching for lawn care andpest control.
By including the negative keywords pests, insects, bugs and mosquitoes the campaign can be focused on the most likely customers.
4. Don't Neglect to Conduct A/B Testing
Another very important step when launching an SEM campaign is A/B testing. Not everyone who is searching for a product or service will respond to the same ad.
Diversify the message by using A/B testing to figure out how different audiences are responding to the advertisement and then build out a campaign based on the results. Maybe one version of the advertisement isn't quite striking the correct chord with people as they deal with COVID-19. To avoid spending money on a message that isn't leading to conversions, advertisers should consider adding A/B testing to the mix to ensurethat the most effective ad is delivered.
5. Don't Forget About the Landing Page
Creating an SEM campaign that is enticing qualified users to click on the ad is the first step, but is the related landing page closing the deal by turning those clicks into conversions? Does the page reflect the right messaging and tone considering the current social climate?
Make sure the webpage that users are directed to meets their expectations. A landing page that doesn't reflect the campaign message can lead to a low conversion rate. Think about it, if you are directed to a webpage that doesn't gain your trust are you going to make a purchase from that business? Probably not.
Take This Advice and Run With It
As consumers begin to seek out the goods and services that they used before the pandemic, advertisers can seize the opportunity to get in front of those people as they turn to online search. SEM is effective at reaching an audience that has intent and is already looking for the things that advertisers provide. By running an efficient search campaign, advertisers can help people as they rely on search in their time of need.