This post is the first of a six-part blog series outlining the necessary steps for a successful transformation to digital advertising. Here, we offer the starting point for broadcasters looking to grow their digital advertising revenue. 
For many broadcasters, expanding into the digital advertising realm might seem like a daunting task – and of course there are some significant challenges involved. However, the digital transformation reward is worth the journey, paying off in the powerful new growth opportunities that a perfect mix of radio and digital inventory will deliver.
If you are like most broadcasters, you don't have the luxury of starting from scratch; rather, you will need to evolve your existing operation to develop new digital opportunities while continuing to maintain on-air products. That balancing act requires a carefully thought-out game plan, and it starts with creating a vision and engaging employees effectively to set the company up for success and future growth.
Marketron has broken this important initial phase into five key steps:
1. Define Your Future Vision
Building a vision starts with projecting your market outlook based on industry forecasts. Where do you want your business to be in one year? Four years? How will mixing in digital solutions help you achieve that vision? Once your market outlook is established, you can determine the adjustments your organization needs to make to meet future goals and improve performance.
We have made this process easier with a market projection template that will help you determine your teams' focus areas for delivering on goals over the next four years – including adjustments for COVID losses and recovery periods.
2. Prepare for Change
Future growth requires change – and acknowledging that fact is a critical step in your transformation process. There are recommended paths leaders can take to drive organizational change; in fact, a recent Gartner study recommends that the driver for change be employee collaboration rather than top-down direction. This approach showed measurable success including decreased implementation time, increased employee engagement, and increased employee intent to stay. The most effective change management efforts include:
Leaders tha

t engage the workforce to co-create strategic decisions.

 

Responsibility given to employees for planning how to implement change.

 

Open communication and conversations about the change. 

 
3. Select a Change Committee
The next critical step is to bring together key stakeholders who will then develop the path toward organizational change. That requires assembling a change committee made up of cross-department and cross-level employees including department heads, middle managers, staff, and support, with a healthy dose of creative thinkers and even naysayers mixed in. (Regarding the naysayers, it's a good idea to choose people that you know will resist change; if you can win them over, many more will follow.) This committee's understanding of current operations, coupled with a clear vision for growth, will give leaders the best chance at evolving toward digital success.
4. Co-Create a Blueprint for Change
With the change committee appointed, you're ready to formulate your action plan. The diagram below lays out 12 key action items for the committee to address.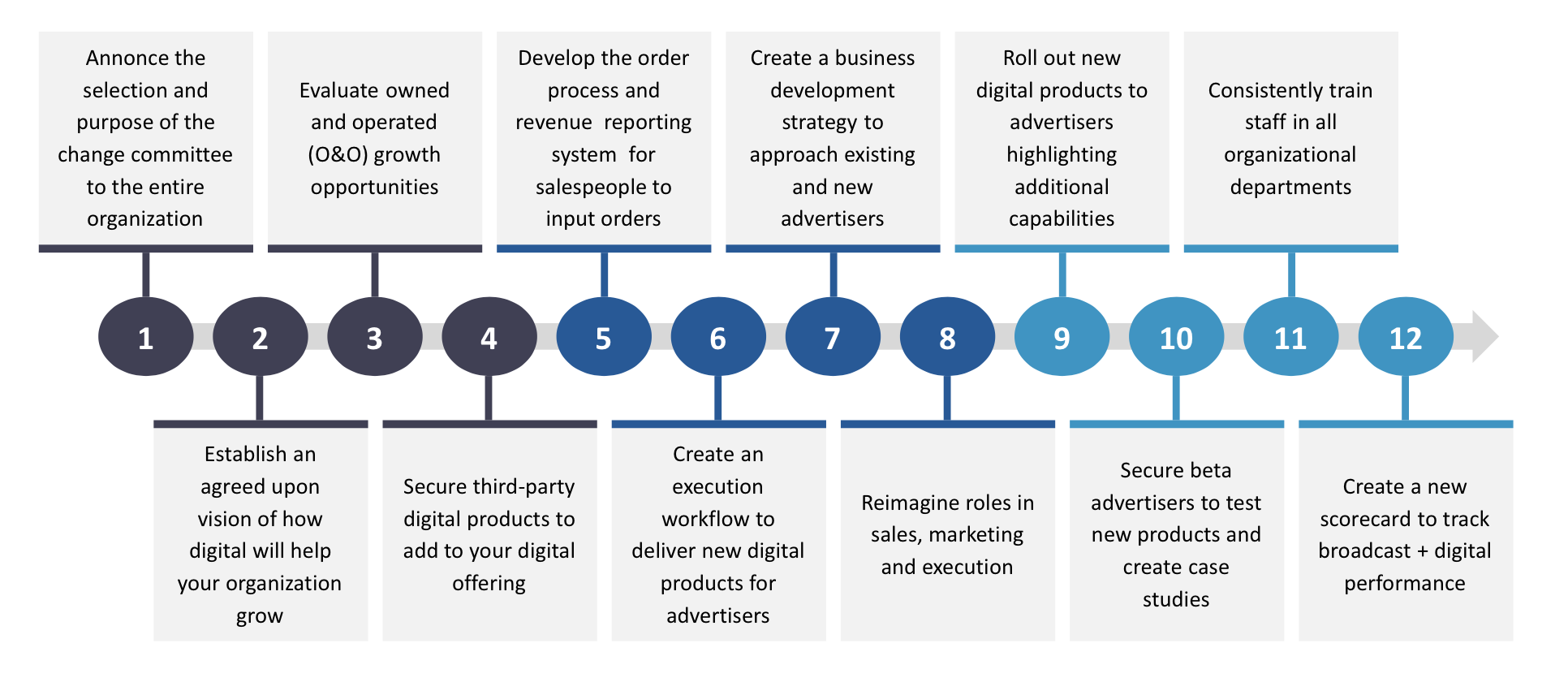 5. Be Open to Transparency
Once the blueprint is in place, it's time for the change committee to refine it by gathering constructive feedback. But constructive feedback only happens in organizations that are accustomed to transparency – and transparency is about leadership that replaces telling and directing with collaborative participation in discussions. In its report, "Changing Change Management," Gartner provides three keys to transparency: Allow employees to share negative reactions to improve feelings of control; support peer-to-peer interaction by encouraging employees to share change insights with the rest of the workforce; and build dialogue by giving employees questions to drive open conversation and action plans for change.
Here at Marketron, we understand that no significant transformation happens overnight. Diving into digital advertising requires a well-thought-out playbook for assembling a sophisticated inventory of products and properly structured internal operations. Having a targeted action plan is the only way to compete successfully with any agency or media company that is already delivering digital advertising in the marketplace.
The good news is that we've written the playbook for you! Marketron has put together all the logical tools and best practices you need for a successful digital transformation – one that many broadcasters are already implementing and impressive results. Get started: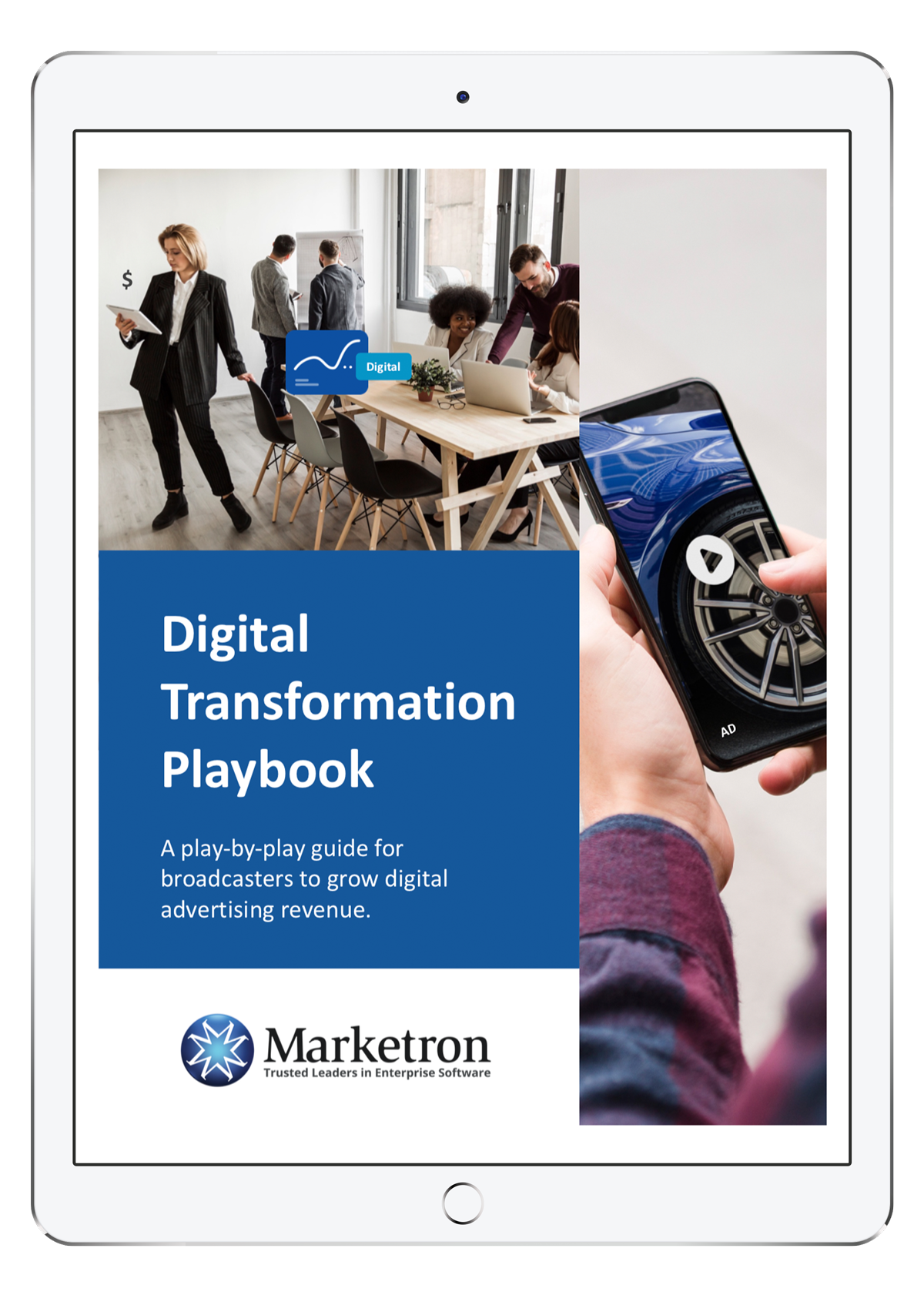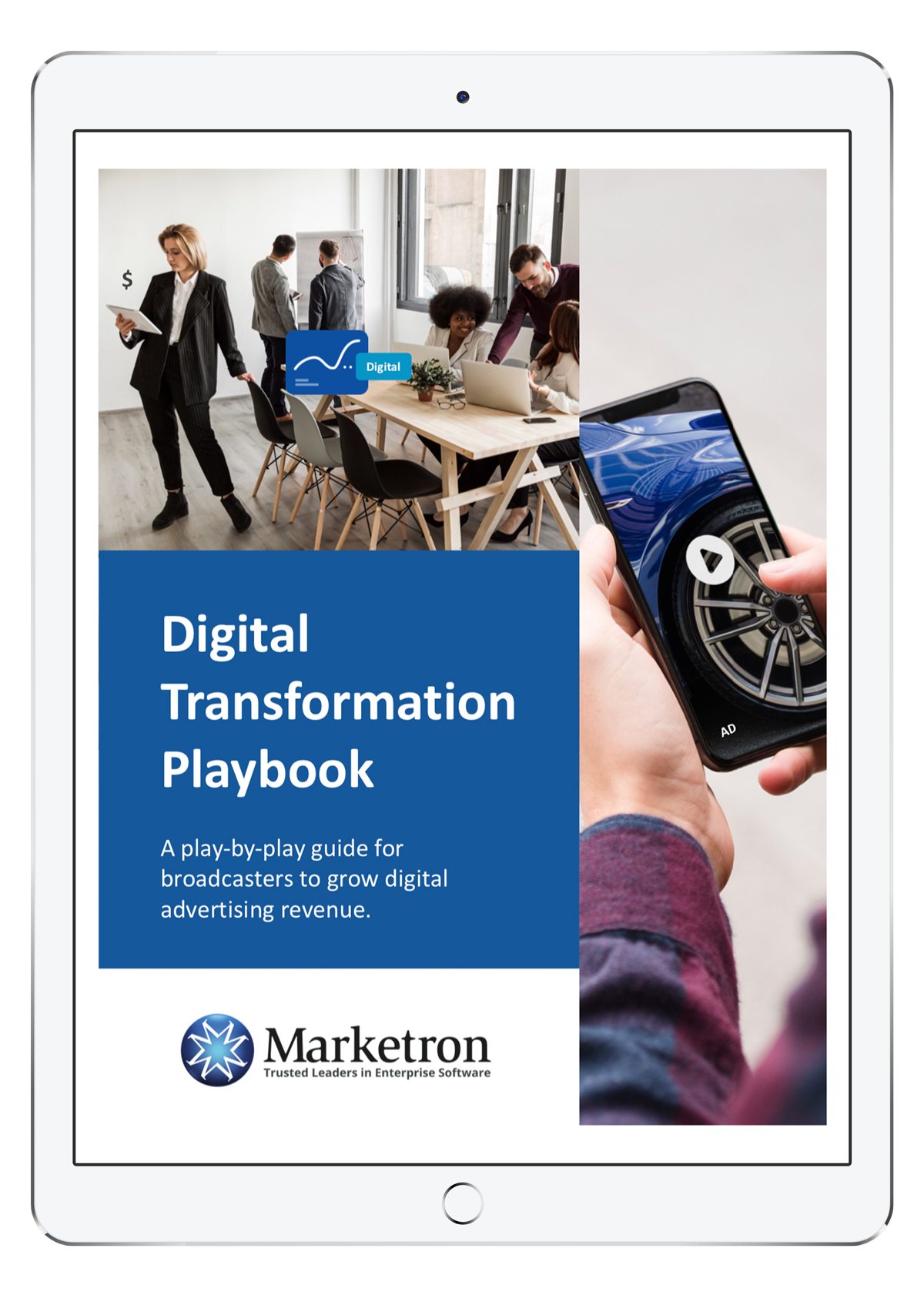 The "Digital Transformation Playbook," an exclusive ebook offering a detailed, step-by-step guide for broadcasters to grow digital advertising revenue.
Download the eBook