HAILEY, Idaho — August 28, 2023 — Marketron, the broadcast industry's leading technology provider for more scalable, predictable and reliable revenue, announced today the publication of a new guide for broadcasters on compensation and commission in digital sales, along with a commission and margin calculator. Covering an important topic to the media industry, the guide contains tips, strategies, and the commission tool to support sales managers and leaders in defining the compensation and commission structure that will incentivize sellers and grow revenue.
The new guide includes a review of digital sales compensation factors, examination of five commonly used models, and data on which models those in the broadcast and media industry employ most often. The content also offers insights into the connection between compensation, recruitment and retention. As the industry evolves and seeks to attract new people, media companies can apply these learnings in their hiring strategies.
The digital sales commission and margin calculator offers an interactive experience where users can experiment with four commission models to understand how the numbers for each can take shape at their organization. Users will be able to create different models and download the results in PDF format to share with leadership.
On creating these new assets, Jeff Ulrich, director sales enablement services at Marketron, said, "We know commission and compensation are both a concern and an opportunity for the industry. By offering our expertise and combining it with data and a calculator, we hope the industry can use what they learn to refine their recruitment strategy and ensure their high performers stay with them. No matter where an organization is in its digital sales maturity, this information and tool are valuable."
Those interested can access the content and calculator at https://www.marketron.com/compensation/.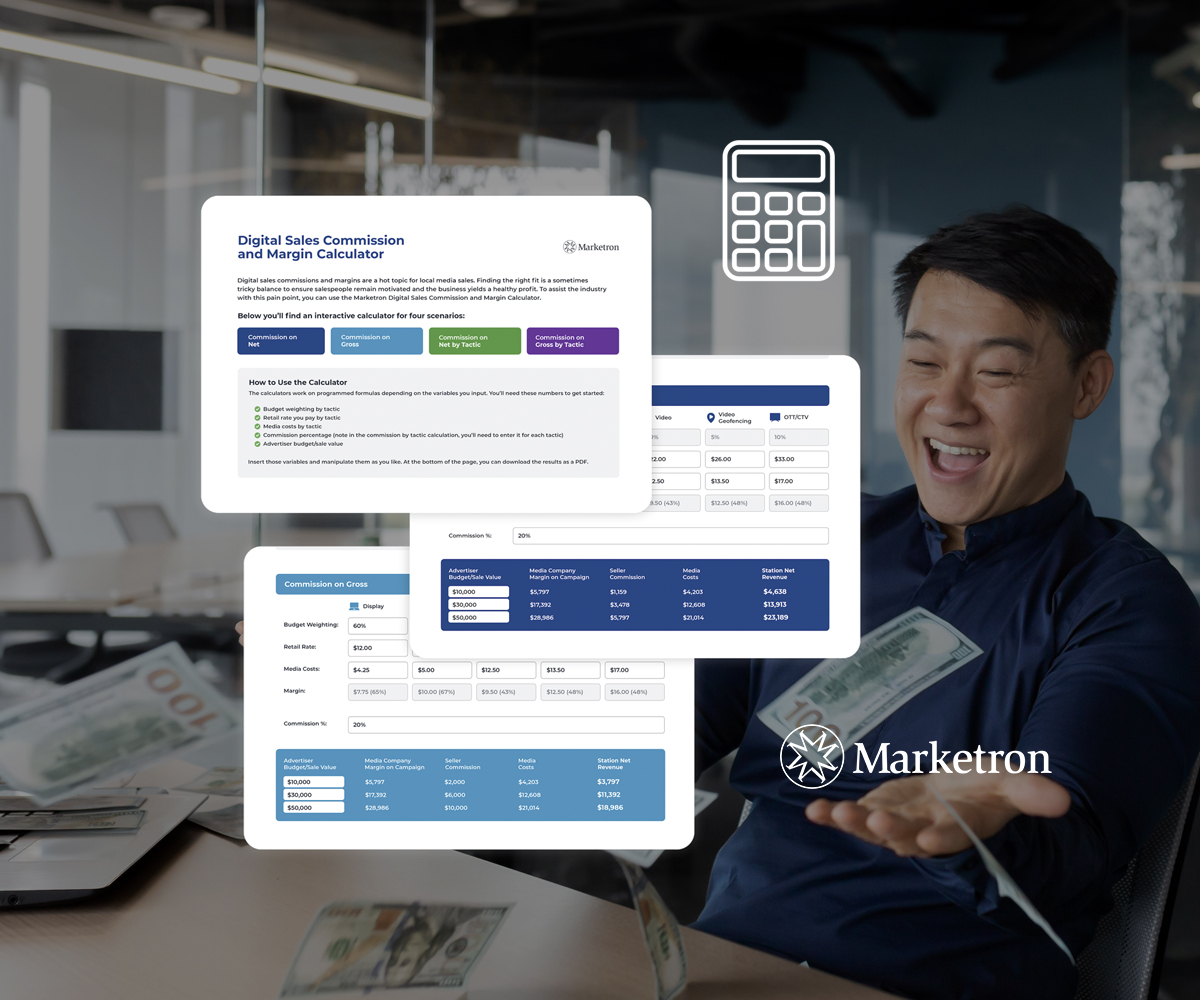 About Marketron
Marketron empowers innovators in the broadcast and media industry to strengthen their market leadership by delivering more scalable, predictable and reliable revenue. With Marketron's products and services, users can successfully propose, price and execute multimedia advertising campaigns across all revenue streams including television, radio, O&O and digital media. With 50 years of industry leadership, Marketron serves more than 6,000 media organizations globally and manages $5 billion in annual U.S. advertising revenue representing more than 1 million advertisers. Marketron is owned by Diversis Capital. More information is available at www.marketron.com.
Marketron Contact
Christine Pecher
Director of Marketing
Tel: +1 208 788 6874
Email: hello@marketron.com