In Part One of this two-part blog, we looked at the upfront thinking needed to create your digital advertising vision and design the products and workflows you need for success. Part Two focuses on three additional pitfalls that could keep all that careful planning from paying off once it's time to mobilize your team and launch your digital game plan.
Pitfall #4: Refining Org Charts and Job Expectations
Motivating teams to adopt new ways of working can't happen until staff members at all levels have a clear understanding of their roles and responsibilities. Sales managers steeped in legacy workflows may resist the responsibility of managing both broadcast and digital sales activity, instead looking to direct reports to have the digital expertise for them. But, in order to be successful, sales managers need to be as knowledgeable as their sellers are.  
By the same token, sales support employees need digital knowledge and strong project management skills. Current support employees with ambition will welcome the opportunity to grow, but some organizations and teams may have a hard time respecting these evolved positions.  
Of course, figuring out how to effectively train your organization and test for knowledge is crucial, keeping in mind that adults learn best by doing. You'll need to develop or have access to an ongoing training curriculum that can keep up with the constantly evolving digital media industry. 
Pitfall #5: Keeping Team Members on Track
Managing and motivating the sales team doesn't stop once you've launched your digital advertising program. Adding digital inventory requires teams to learn new skills, operate new workflows, and institute new processes. It's a tall order for sales times used to doing things a certain way, so be prepared for about 15% of your employees to resist and possibly even undermine the new processes. Those employees will not only fall short with their own performance, but will also affect others who are agnostic to change. The faster you are able to manage resistant employees' behavior, the faster your entire organization will adapt. 
One way this resistance to change might manifest itself is legacy, seasoned sellers who are reluctant to take digital opportunities to their biggest customers. Perhaps they're afraid the new offerings will cannibalize the customer's traditional radio business. To head this off at the pass, you should prepare your managers on how to approach the issue and make sure they closely monitor the strategic account plans for current advertisers.  
As your team members start getting their feet wet with digital advertising sales, the new workflow, processes, and product mix they have created will need fine-tuning. If your team is allowed to use "bugs" as an excuse not to change, your digital action plan will break. Leaders must establish a culture to identify "bugs" and fix them fast, and then celebrate the fix. 
Pitfall #6: Tracking Performance and Removing Roadblocks
Effective performance tracking requires a robust, real-time performance dashboard that can handle multiple data sources, but this shouldn't require high-level technology development skills. It does require coordination between finance teams, sales teams, and a tech-savvy employee who can manage the dashboard technology. Expect dashboard creation to take several iterations before you get it right.   
Of course, data is the driving force behind business growth today – and making company performance data transparent will develop a culture of action in your organization. But keep in mind that legacy broadcast employees may not be comfortable having their performance showcased to others. Managers may need to be prepared to address these emotions and set new expectations.  
Finally, it's critical to create a culture receptive to feedback. Keep in mind that broadcast radio hasn't really changed substantially in 50 years, and many legacy broadcasters have not had to evolve their business operations in such a fundamental way. Therefore, it's understandable that moving to include digital advertising is a sea change for veteran sales professionals, and they may not be used to debriefing meetings and constructive feedback on using new processes. In order to make employees more receptive to feedback, leaders will have to demonstrate how it can lead to real organizational improvements and increased revenue generation for the company and the sellers.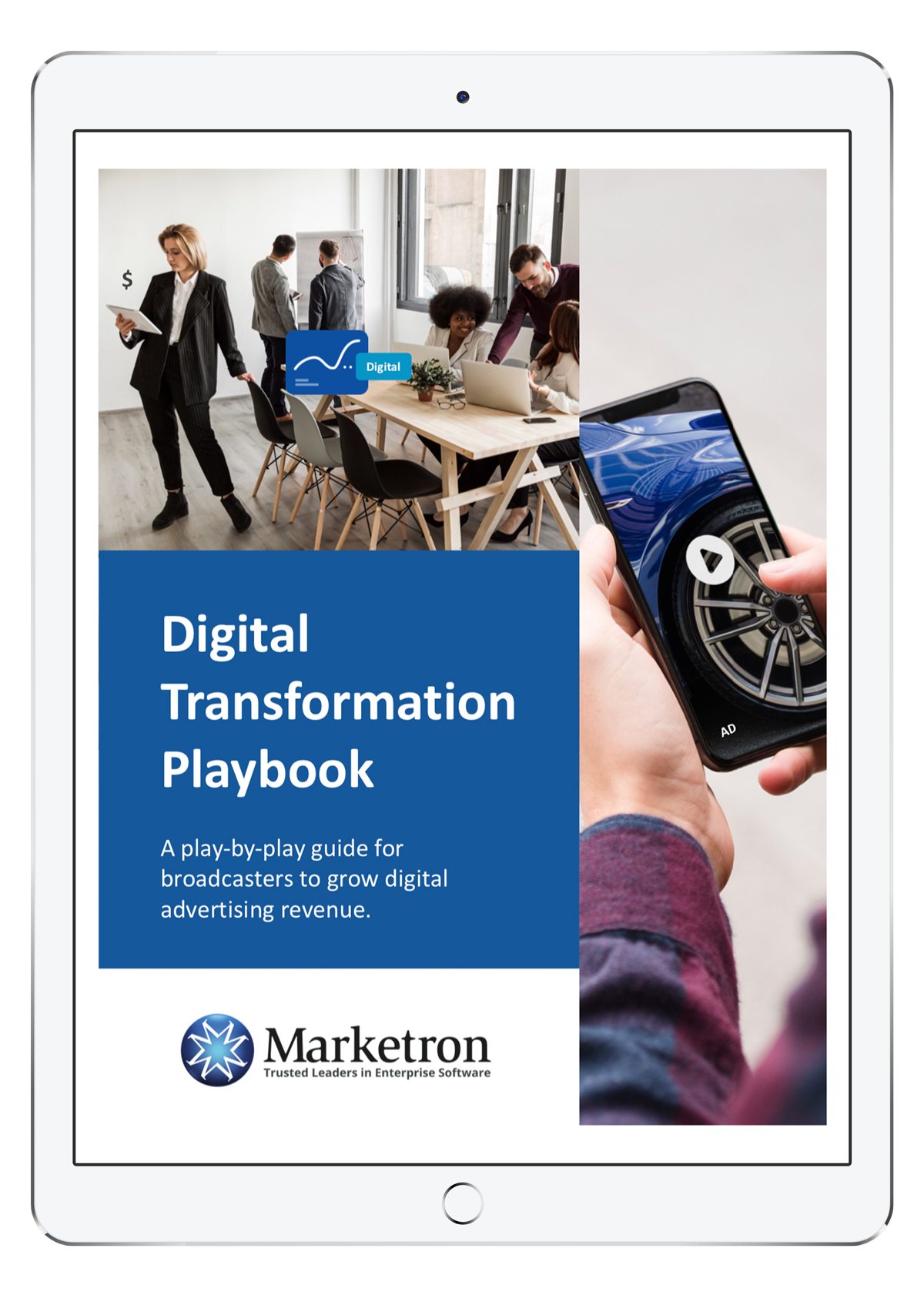 Download your free Digital Transformation eBook. Let Marketron help you navigate your team's journey to digital advertising and ensure it's a ringing success! 
Download eBook