HAILEY, Idaho — January 12, 2023 — Marketron, the broadcast industry's leading technology provider for more scalable, predictable and reliable revenue, today announced it has been named a winner for Marketron REV in the 2023 BIG Innovation Awards presented by the Business Intelligence Group.
Marketron REV is a comprehensive sales platform that enables broadcasters and media companies to power revenue success. With REV, broadcasters transform daily sales operations to maximize revenue and prepare for a future of converged orders and expanded audience measurement. Marketron REV integrates access to real-time inventory, ratings and dynamic pricing, allowing salespeople to deliver more revenue more effectively.​
"Having real-time information when responding to agency avails or creating proposals is critical to profitability," said Renee Ingenito, vice president of enterprise sales at Marketron. "It's just one of the differentiators that sets REV apart. Within a single sales platform, sellers have all the tools necessary to generate more revenue and focus their attention on sales."

"Innovation is 'business critical' in today's society," said Maria Jimenez, chief operating officer of the Business Intelligence Group. "We are thrilled to be honoring Marketron as they are leading by example and improving the lives of so many."
Organizations from across the globe submitted their recent innovations for consideration in the BIG Innovation Awards. Nominations were then judged by a select group of business leaders and executives who volunteer their time and expertise to score submissions.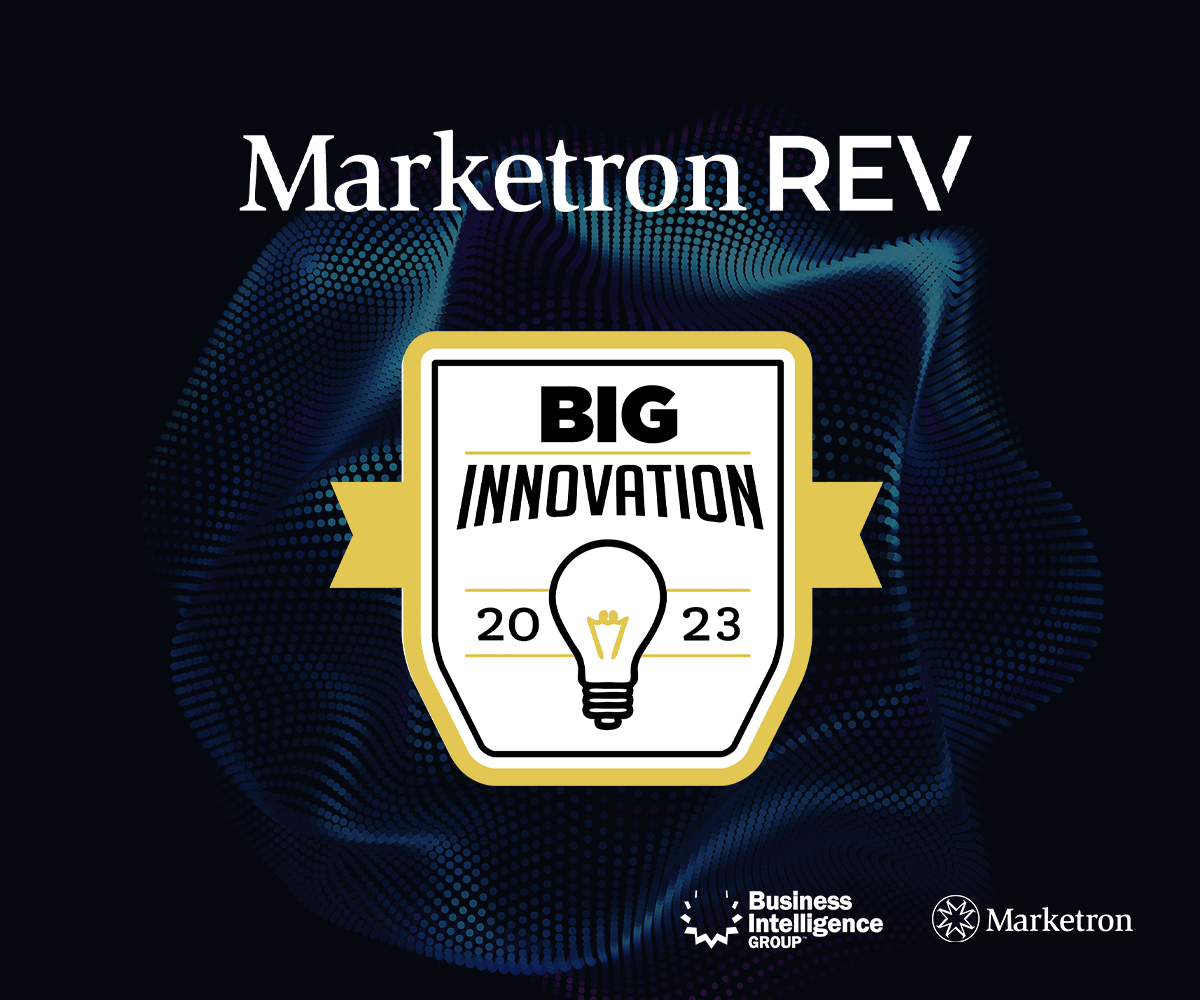 Marketron REV

About Marketron
Marketron empowers innovators in the broadcast and media industry to strengthen their market leadership by delivering more scalable, predictable and reliable revenue. With Marketron's products and services, users can successfully propose, price and execute multimedia advertising campaigns across all revenue streams including television, radio, O&O and digital media. With 50 years of industry leadership, Marketron serves more than 6,000 media organizations globally and manages $5 billion in annual U.S. advertising revenue representing more than 1 million advertisers. Marketron is owned by Diversis Capital. More information is available at www.marketron.com.

About Business Intelligence Group
The Business Intelligence Group was founded with the mission of recognizing true talent and superior performance in the business world. Unlike other industry award programs, these programs are judged by business executives having experience and knowledge. The organization's proprietary and unique scoring system selectively measures performance across multiple business domains and then rewards those companies whose achievements stand above those of their peers.
Marketron Contact
Christine Pecher
Director of Marketing
Tel: +1 208 788 6874
Email: hello@marketron.com
Business Intelligence Group Contact
Maria Jimenez
Chief Operating Officer
Tel: +1 909 529-2737
Email: jmaria@bintelligence.com