Expanding your client list is always a goal for local digital sellers. How you approach that changes every year depending on economic factors, your market and your expertise. Since you can't prospect within every vertical, having a targeted list is a good idea. In this post, we'll review the industries that plan to spend more on local digital advertising in 2023 and how to prospect and pitch to win.
What Do Forecasters Predict?
Sizing up the local digital advertising landscape requires peering into the forecasted numbers. In the BIA U.S. Local Advertising Forecast 2023, the firm highlights several categories poised for growth. Specifically, in local OTT, they list legal services, hospitals, quick-service restaurants, auto manufacturers and grocery as top growing spenders.
Insider Intelligence also has forecasts on industries that will increase budgets in 2023. Travel, retail and entertainment top the list.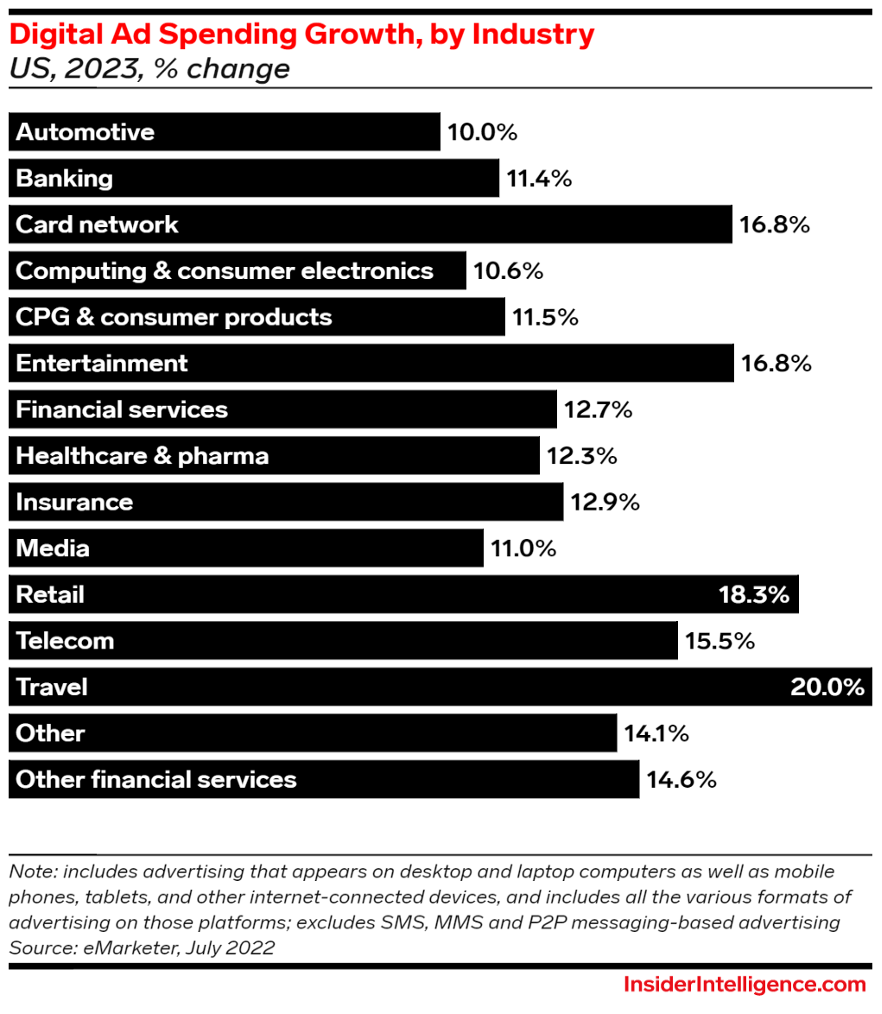 Another forecast resource to consider is Statista's numbers on digital advertising growth. Their data shows the highest upticks for retail, CPG (consumer packaged goods), entertainment and consumer electronics.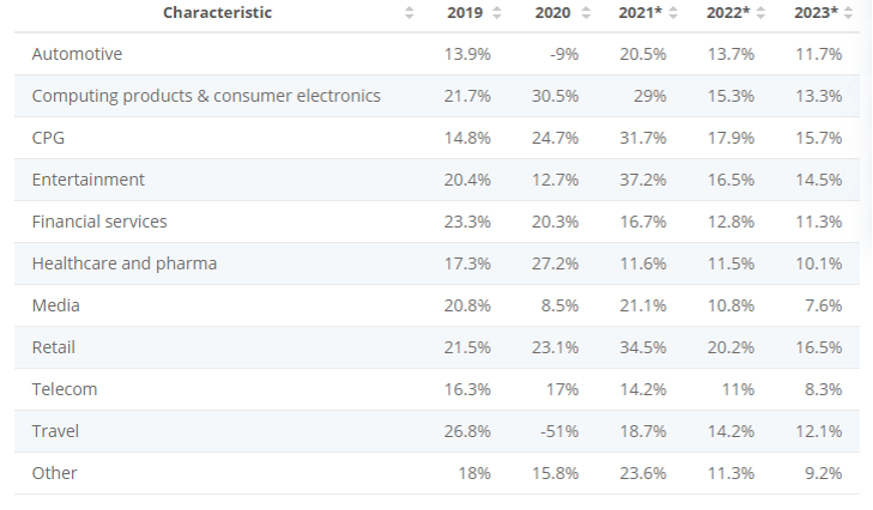 Looking at all these numbers and leaning on our expertise in local digital advertising, we recommend these as the verticals to watch:
Retail
Travel
Entertainment
Hospitals
Quick-service restaurants
Grocery
Bring a Fresh Perspective for Retailers with Tactics and Messaging
Retail includes a massive vertical with many specialty subsets. Local retailers are faithful digital advertisers but need new energy and tactics to target specific consumers. Here are some ideas:
Geofencing competitors: Propose display ads that fence their competitor locations with messaging that offers people a great deal.
Using niche social media platforms: Explain how apps like TikTok, Snapchat and Pinterest can help them find new audiences.
Refreshing messaging: Consumers want brands to be authentic, transparent and real. Cliché and tired ad content isn't going to get them noticed. A good example is furniture stores. They're always having the "best" sale of the year, and many people roll their eyes at these promises. An OTT ad that makes light of this and is honest about pricing could drive traffic to their store.
Help Tourism Advertisers Capture Continuing Demand
According to Morning Consult's Return to Normal tracker, 3 out of 5 adults stated they're comfortable flying domestically, and 75% feel the same about staying in a major hotel chain. Pent-up demand for travel is still strong in 2023, and inflation concerns don't seem to be limiting spending, as noted in TripAdvisor's Fall Travel Index.
If your market is tourism-centric, you can pick up revenue with this vertical. Here are some ideas:
Familiar travelers and zones: If your advertisers know where many of their guests come from, targeting these areas with digital keeps them visible. For example, cities near the Gulf of Mexico welcome many visitors living north, west and east.
Reaching cord-cutters: OTT/CTV is perfect for travel and tourism. It's targeted and allows these advertisers to get in front of people who no longer subscribe to traditional TV. These ads can be fun and stress the FOMO (fear of missing out) angle. Adding a limited-time discount could create a click on OTT or a scan on CTV via a QR code.
Influencer marketing on the local level: You can pair a local travel influencer with a hotel, resort, casino, venue or attraction to grow engagement. These ads would be great on social channels like Facebook, Instagram, TikTok and Snapchat. You could recommend a travel vlog type of campaign, so there's a whole series.
Make Entertainment Center Stage for Local Consumers
This year will be the first one that's a full recovery from the pandemic. In fact, 73% of Americans are ready to return to live events, and 65% are willing to travel more than 120 miles to attend them. Concert venues, museums and immersive events want to promote what's happening, and they'll need to use a mix of digital tactics to target the right audience.
Talk to these businesses about the events that need the most boost and what type of people they want to attract. You can then put together a campaign with advanced targeting based on location, demographics and interests. It can drive new visitors to their websites and reengage old ones. Check out this performing arts case study that does this effectively.
Cure the Patient-Consumer Indifference
Hospitals have begun to realize that patients are consumers. They have a choice about the health care system they use in most metro areas. As a result, there's competition over market share. Additionally, specialized hospitals like Cancer Centers of America advertise to attract patients.
Go to hospitals with ideas that frame the patient as a consumer and involve content that would be meaningful to an audience, such as stories with real patients. These touching narratives shape the hospital's image in the community. They can work well on OTT/CTV, social channels or video display.
Feed Quick-Service Restaurants New Ideas
Quick-service restaurants focus a lot on market share since it's so competitive. This year could make it even more so, with some consumers cutting back on dining out. People also want quality food and good service. Restaurants that can showcase this in digital ads can get an edge. For example, digital display ads with customer reviews demonstrate that the business meets customer expectations. Another thought is ads that go behind the kitchen door. Videos that show the cooks and preppers at work give consumers a complete view of operations.
These ads would be perfect for OTT/CTV and social media. You could also recommend geofenced video display ads that cover competitors.
Give Grocery Angles That Make Sense for Customers
Grocery stores have been steadily increasing their OTT spending, finding it's a good channel to promote things like delivery and pickup. Many consumers still want this convenience, but there are frustrations about the process. Video ads that address this could get shoppers to switch stores.
Another issue that's making headlines is the rising costs of groceries. Discount grocers could win market share as a result. A new study found that dollar stores are the fastest-growing food retailers, so this is an excellent target for you outside of traditional supermarkets. Ad content that focuses on pricing would be a strong concept.
Grow Local Digital Advertising by Focusing on Spending Verticals
With these ideas and tips, you can get advertisers excited. They'll be able to see positive results on their ad spend with integrated campaigns that use multiple digital tactics. They'll also appreciate the value you bring to the relationship by understanding their industry and the market.
Get more ideas on creating the right digital ad mix using our interactive tool!
Get Started