HAILEY, Idaho — March 2, 2023 — Marketron, the broadcast industry's leading technology provider for more scalable, predictable and reliable revenue, today announced that its Aspire blog won Sales Enablement Content of the Year from the Killer Content Awards. The award ceremony occurred March 1, 2023, at the B2B Marketing Exchange in Scottsdale, Arizona.  
The Killer Content Awards celebrate brands delivering innovation and creativity to their audiences via consistent, relevant, engaging content. Known as The Finnys, the awards have received more than 2,000 nominations and presented 280 winners. They cover 16 unique categories, and the sales enablement category highlights powerful and creative approaches to content and campaigns used to inform and empower salespeople.  
Marketron launched Aspire in May of 2021 to be a sales enablement resource for the broadcast media industry, filled with ideas, strategies, tips and tools for sales and sales management. It includes blogs, infographics, interactive content, on-demand webinars, e-books and more. Aspire fulfills one of the company's key objectives: to be much more than a software company. Supporting sellers with sales enablement tools is fundamental to their success and Marketron's. Aspire welcomes broadcast and media sales professionals to learn and adapt to a changing market. It's both a place to find inspiration and upskill.  
The Aspire blog also recently published its 300th post, demonstrating the organization's continued commitment to enabling radio, local TV and digital advertising sellers.  
Marketron's senior content marketing manager, Beth Osborne, attended the B2B Marketing Exchange and the awards ceremony.
She said, "I'm really proud of the work we do at Marketron. We have an amazing team who all share the vision of empowering sellers in the industry through content that helps them pitch, prospect and sell smarter. Aspire is truly inspiring our audience, and that's exactly the impact we want it to have."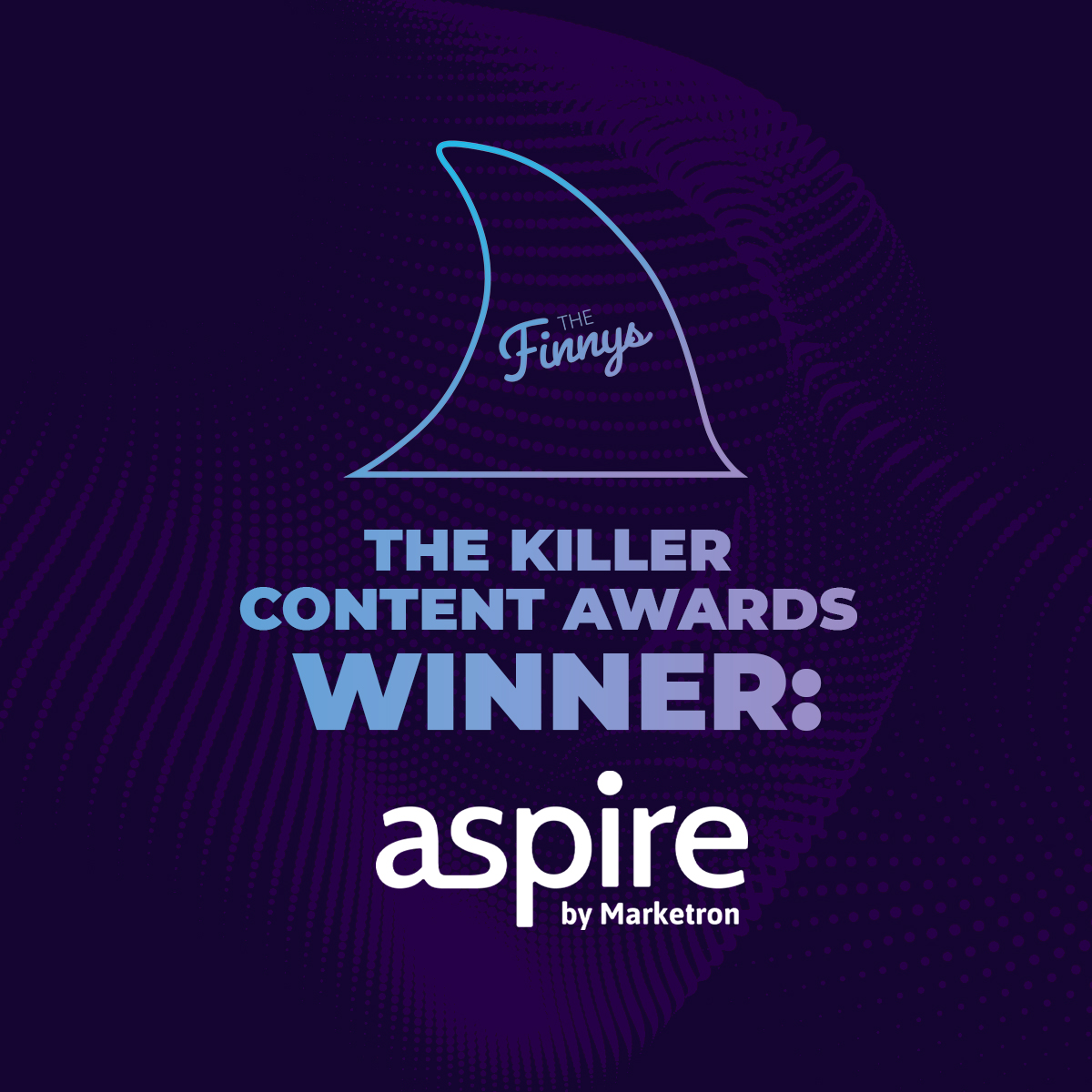 The Killer Content Awards Winner: Aspire

About Marketron
Marketron empowers innovators in the broadcast and media industry to strengthen their market leadership by delivering more scalable, predictable and reliable revenue. With Marketron's products and services, users can successfully propose, price and execute multimedia advertising campaigns across all revenue streams including television, radio, O&O and digital media. With 50 years of industry leadership, Marketron serves more than 6,000 media organizations globally and manages $5 billion in annual U.S. advertising revenue representing more than 1 million advertisers. Marketron is owned by Diversis Capital. More information is available at www.marketron.com.
Marketron Contact
Christine Pecher
Director of Marketing
Tel: +1 208 788 6874
Email: hello@marketron.com