Selling third-party digital advertising is a natural extension for media salespeople. Most of your advertisers are already buying linear and digital ads. Therefore, if they aren't purchasing digital from you, they are from someone else. Additionally, adding digital ad options to your portfolio enables you to expand your customer base to those spending little (or nothing) on broadcast today.
So, how do you go from little to no digital selling to mastering it so well that you gain new customers? Let's take a journey on the path that will most likely lead to success.
Examining the Market
Historical data from sales interactions will be extremely helpful; ideally, you're using a CRM system to capture and manage that data. If not, you should consider adopting one, as it delivers many benefits to sales teams.
To quantify a market for digital outside of your linear customer base, start by looking at close-lost business. Find lost opportunities where the reason was that the company doesn't invest in linear and/or was looking for digital advertising primarily. Perhaps they want to narrowly target by location or interest.
You can color this more by getting insights into your sales team's prospecting plans and pipeline. What potential deals could you win by having digital? Will you receive a smaller share of ad spend because digital isn't an option?
What Industries Are More Digital-Centric?
Through this analysis, you may find that certain fields are more digital-centric or that some aspects are. For example, recruiting and employment advertising continues to rise as many industries have jobs available. Recruitment ads are predominantly digital and targeted, so that means there was little opportunity without the digital component.
According to eMarketer, the industries seeing a strong 2021 rebound and further growth in 2022 include automotive, consumer electronics, consumer product, entertainment, financial services, health care and more.
This information and your data can be critical to targeting. Just having a sales meeting to discuss your team's experience could be eye-opening and help you devise a strategy for new advertiser types.
Selling Third-Party Digital Advertising: Streamlining and Integrating
Once you determine the size and opportunity for selling digital, you'll need a technology solution and a third-party digital partner to make this a reality. Going it alone or using lots of different applications won't be efficient and could derail your revenue generation.
Here are some considerations for the process:
Define what inventory you want to be able to sell, as digital advertising encompasses many different types.
Assess the quality of the inventory available in the provider's network.
Review the proposal and order entry to determine how easy the tool will be for salespeople to use.
Determine how billing works and if you can invoice easily.
Ensure that reporting of campaign performance is transparent and covers all efforts, so your advertisers understand results.
Decreasing Learning Curves in Selling Third-Party Digital Advertising
Another concern for broadcasters trying to expand their customer base with digital advertising is learning curves for salespeople. Your team may have people of various skill levels. What's important is that they understand the inventory and how to use it to attract new customers.
Your people may have existing relationships with companies they've pitched linear to with no success. Now, they can re-engage with a new conversation.
Much of the time, that will require some upskilling and training on digital ad sales. What's ideal is for your technology provider to make this available. That way, it doesn't cost you anything extra and will nicely complement the platform.
It's critical to accelerate their training so they can hit the ground running once you implement your digital advertising platform.
Are You Missing Opportunities to Capture New Customers?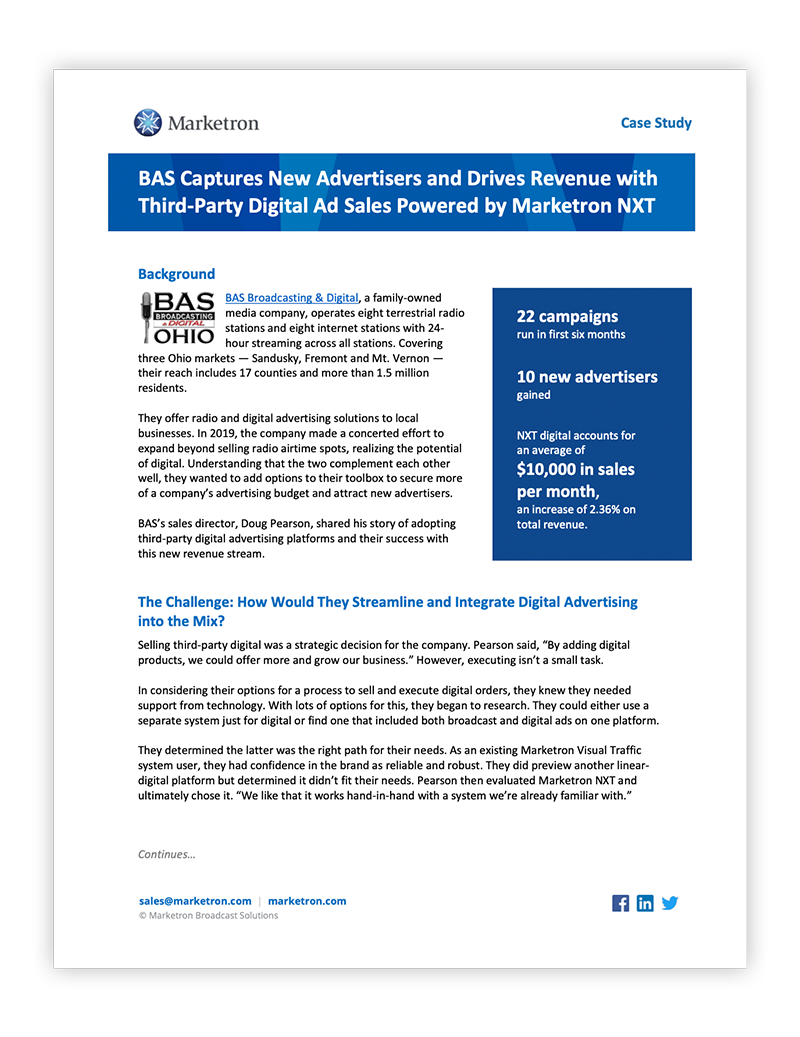 The reality is that if you don't offer digital advertising to local advertisers, someone else does. What you have as an advantage is a solid understanding of local advertising and the ability to meet all their marketing needs. In fact, if you close a new customer with digital, you can always add in broadcast spots when it makes sense to broaden their reach.
If you'd like to learn more about how you can transition to selling digital and gain new customers, check out our case study featuring BAS Broadcasting & Digital!