Your local advertisers have two main objectives when buying digital advertising: touching consumers throughout the customer journey and optimizing their ad spend. You can help them achieve both and stay top of mind to their audience with full-funnel advertising.
Developing campaigns like this drive better results for your clients and more revenue for you. In fact, full-funnel campaigns have a 45% higher ROI and a 7% increase in offline sales.
However, it's not easy. You've likely hit some bumps in doing this at scale. You don't know the "right" ad mix or budget to recommend. You may be worried about margins if using third parties. Executing full-funnel campaigns can be more challenging if you have to deal with manual processes or complicated ad ops technology.
With Marketron NXT, you can easily propose and execute full-funnel campaigns like a pro. Here's how.
What Is Full-Funnel Advertising?
Before we jump in, let's talk about what full-funnel advertising is. Full funnel means that the strategy covers every step in the buying journey: awareness, consideration and decision. You'll use a mix of tactics to help your advertisers reach their goals.
One thing to keep in mind is that the funnel isn't linear. Depending on the complexity and cost of the purchase, people can move up and down through the funnel. What's important is that your campaign touches the right people at the right time.
Here are some tactics to consider for each stage.
Awareness: Someone knows they have a need and is actively researching solutions.
SEM (search engine marketing) campaigns that focus on learning and exploring keywords, such as "garden designs" or "types of decks"
Display ads with brand messaging that tells the viewer what the business is and what it does
Consideration: The person has a full scope of the problem they need to solve and is narrowing down their list.
SEM ads that use competitor keywords to get noticed
Social media ads targeted by demographic, location or interests that include social proof like ratings, reviews, awards or testimonials
OTT/CTV ads using similar targeting with comparative messaging regarding price, quality or other factors important to consumers
Decision: The customer is ready to buy.
SEM campaigns with buying language, such as purchase, hire, schedule, book, etc.
Display ads with geofencing to entice nearby shoppers and increase foot traffic
Social media ads with limited-time promotions and offers to push urgency
You can find more ad mix ideas by using our Create the Ideal Digital Ad Mix tool.
So, how does Marketron NXT make full-funnel advertising easy?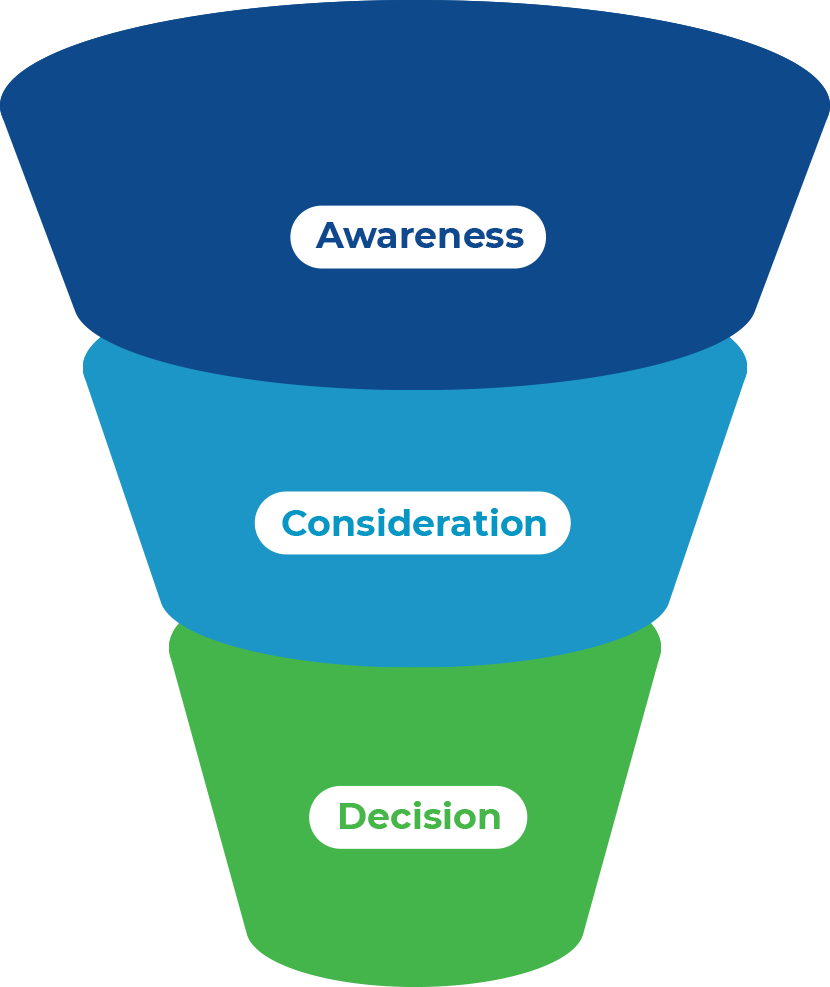 Full-Funnel Advertising with NXT
NXT offers a variety of tactics to sell, including SEM, OTT/CTV, display, geofencing, video and social media ads. The Custom Solutions Desk service provides access to even more social media platforms and the ability to run digital campaigns for restricted categories, including cannabis, alcohol and gambling.
NXT is also a turn-key platform with a proposal tool, order entry and execution, transparent reporting and streamlined billing. This award-winning software is much more than technology. As an NXT user, you'll have access to:
The NXT Training Academy
Digital advertising launch kits and white-labeled one-sheets
A library of on-demand resources in the Marketron Learning Center
Exclusive webinars and sales enablement content
Digital gurus for your team with our client development managers (CDMs)
Help your customers reach audiences throughout the funnel and remove the barriers standing in your way with NXT.
Request your demo today