Creating proposals for advertisers is a critical step in the sales process. It should be an easy and fast task, but many local media sellers face challenges. Often, that means having to use multiple systems for proposing digital and linear ad buys. There can also be roadblocks around accessing linear inventory availability and pricing for digital campaigns. Marketron NXT eliminates these obstacles with its proposal tool.
Find out how it works and why it streamlines and drives efficiency.

NXT Is an End-to-End, Cross-Channel Platform
The advantage of using NXT is that it's truly an end-to-end, cross-channel platform. From proposal to order to reporting and billing, it covers every aspect of the sales cycle. It also removes barriers many third-party digital systems create because they're too complicated or clunky. It guides the proposal process and multichannel order generation so you can deliver an integrated campaign to your customers.
If you're currently dealing with siloed media platforms, you're losing productivity time. The consolidation of processes is the heart of the proposal tool.
How the NXT Proposal Tool Works
The NXT proposal tool is a seller's digital assistant. It moves through specific steps to ensure you have all the correct information for your customer. Here's a high-level view of the process.
Step 1
Start by putting in the basic details, including the proposal name, advertiser industry, market and meeting date. If the customer already exists in NXT or your traffic solution, they will automatically populate in the list of advertisers to choose from.
Next Step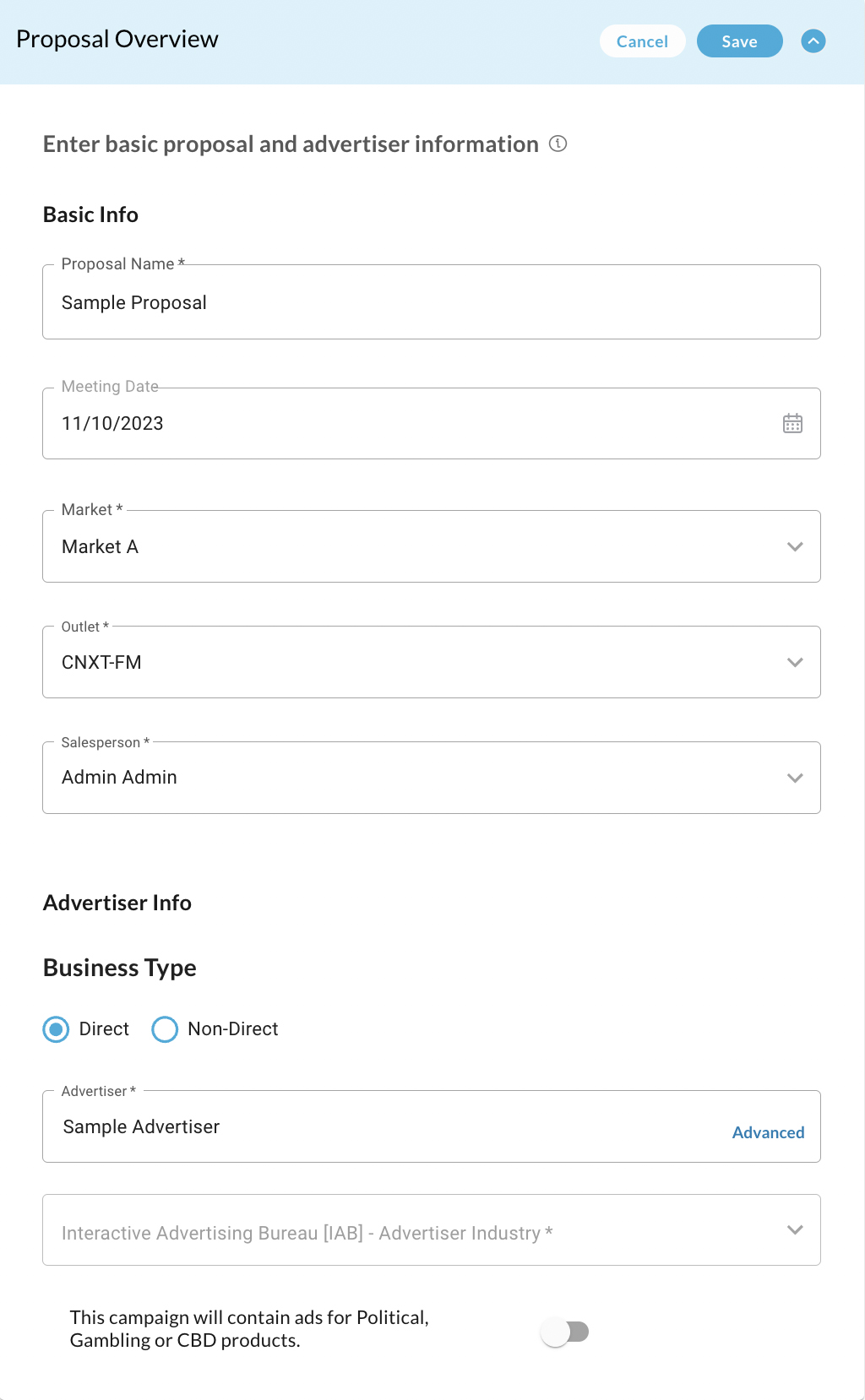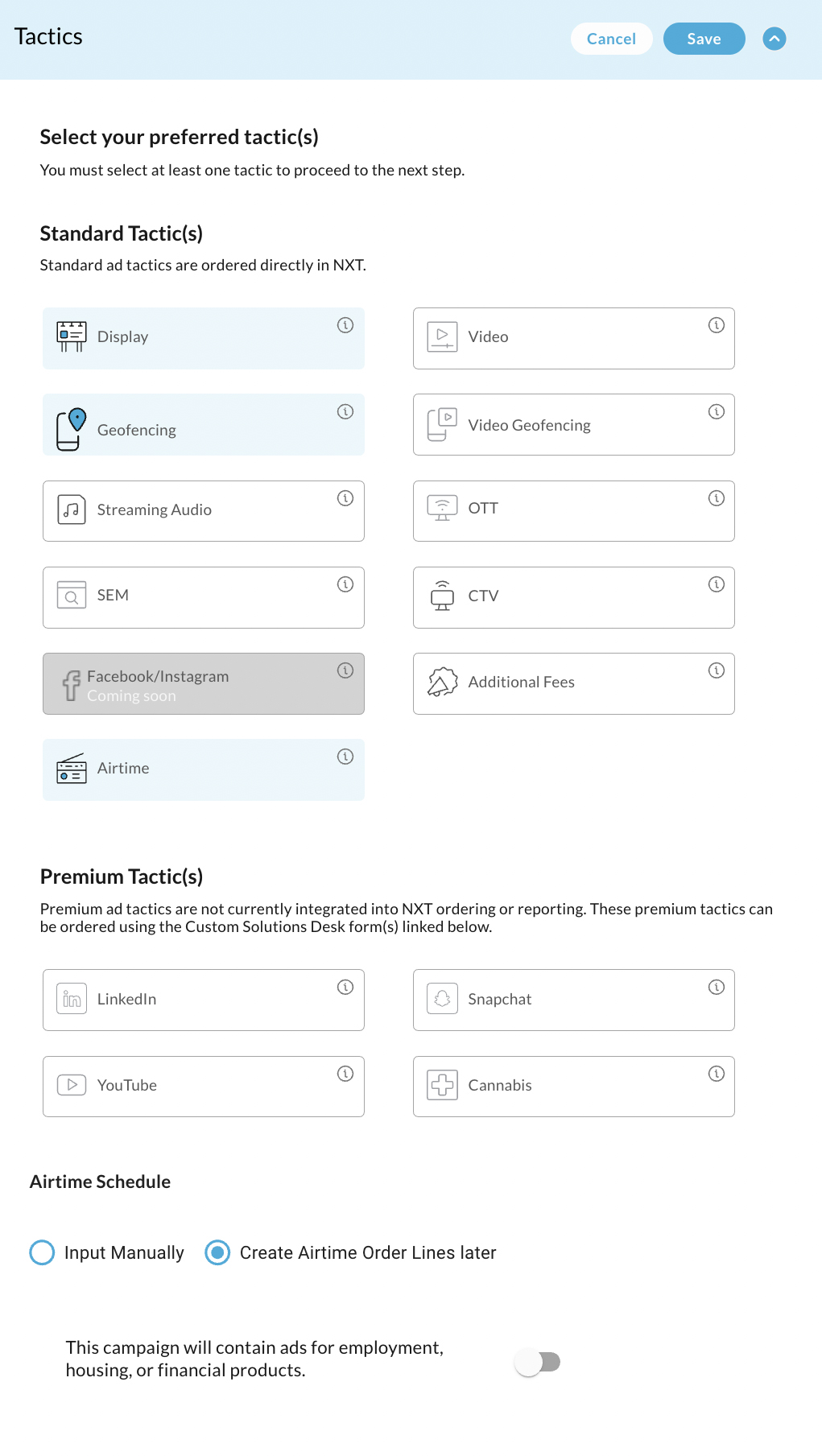 Step 2
Next, select the ad tactics to include in the proposal. You'll add both digital and airtime tactics. There are two tiers of digital tactics — standard and premium. For airtime options, you need an integration between NXT and your traffic software. If airtime is part of the proposal, a new Airtime Schedule subsection will appear for you to add the airtime lines.
Next Step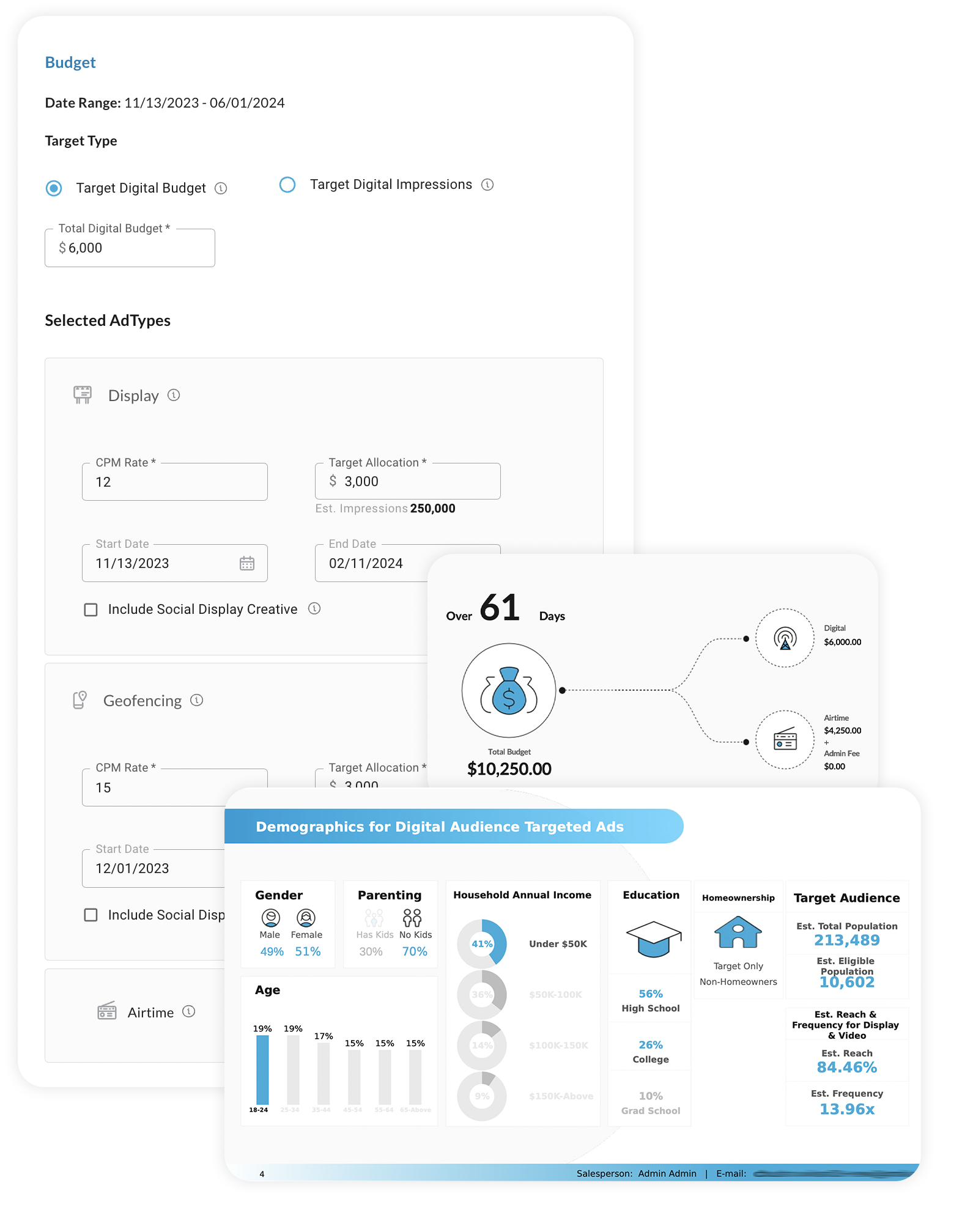 Step 4
Enter the start and end dates along with the budget for the campaign. Most use the Target Budget feature, which allocates the spend equally for digital tactics. You can also enter a budget amount for each tactic if you weigh them differently.
In this section, you'll also see reach and frequency estimates for display and video ads. Reach is the estimated percentage of the target audience that will see the ad. Frequency is the estimated number of times a person will see the ad.
There are additional fields for SEM (search engine marketing) budgets. The budget section will also include that for airtime ads.
After going through the four steps, you can save and preview the proposal. Once an advertiser approves it, you simply bring it back up. In a few clicks, you generate the order.
The Benefits of Using a Proposal Tool
You'll achieve many benefits by using the NXT proposal tool, including:
Streamlined processes: Airtime and third-party digital advertising combine into one.
Decreased time to close: Proposals take only minutes to create with our simplified workflow.
Real-time customization: The easy-to-use interface enables you to build a mix of digital and radio spots to align with the advertiser's needs and goals.
Want to See the Proposal Tool in Action?
Proposals are that simple and seamless in NXT. You can see how it works by requesting a demo today.
Request a Demo