The TVB Forward Conference offered a day of exciting content about the trends impacting broadcast TV advertising. Marketron was glad to sponsor the event once again. Keynotes and thought leader tracks delivered information on trending topics and categories. We took some notes and wanted to share those with our audience.
Measurement Challenges in an Omnichannel World
Audience measurement was a subject that had the experts talking. A conversation featuring a media agency director involved the lack of a universal definition of an impression. Does the entire spot have to play? In some situations, the brand message is immediate because most viewers know the brand, and the message is simple. However, ads for lesser-known brands or those with more complex solutions often need to play to the end for context.
Additionally, an impression doesn't equal engagement. The value of an impression is changing and not currently definitive.
Hadassa Gerber, EVP, chief research officer for TVB, led a panel on measurement, citing a TVB survey of TV consumers, Video Media Devices and Usage Study. The objective for TVB was to share findings to inform and improve measurement. The survey examined viewing habits and the number of TVs in a household. One critical insight was that many people watch TV without volume and/or use closed captioning.
The panel, which included leaders from Nielsen, Comscore, Scripps and MAGNA Global, discussed delivering measurement more accurately across all devices and experiences. Measurement challenges aren't new, but they now have a different dimension. People watch TV in so many ways that traditional measurement doesn't work. The future will look like data from multiple sources that must be aggregated to deliver a complete picture for stations and their advertisers.
The OTT/CTV Opportunity
It's all TV, even when streaming, but should OTA (over the air) and OTT/CTV (over-the-top/connected TV) be at odds? We looked at this a few months ago with this blog post on how OTT/CTV complements OTA.
This conclusion seems to be the consensus of the experts. It's true that budgets are shifting from linear to OTT/CTV, as demonstrated by this graph from eMarketer.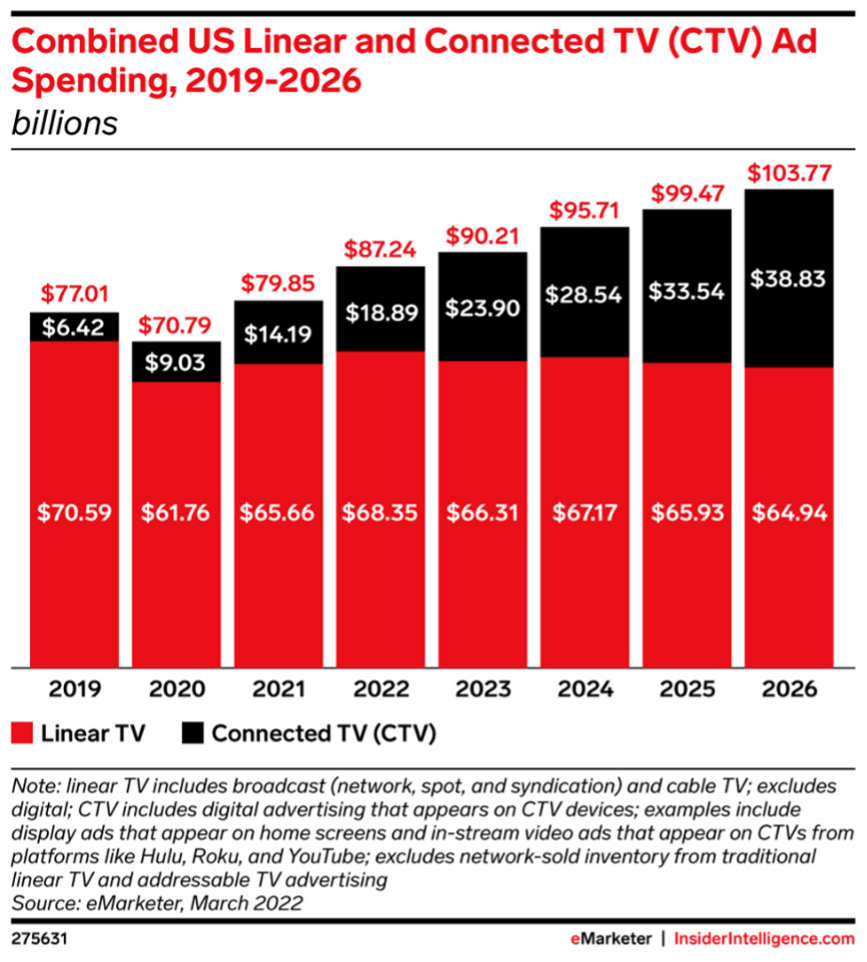 Image: eMarketer
OTT/CTV offers more targeting options than linear and can reach cord-cutters, which makes it appealing to advertisers. It's not a replacement for broadcast TV, but advertisers can use both to maximize their messaging and ultimately expose all audiences to their brand.
NextGen TV: What's Next to Monetize This New Inventory?
Another topic featured throughout the event was NextGen TV. For consumers, NextGen TV represents an improved experience with interactivity and higher-quality sound and audio. When thinking about this new component of TV, many call it a "hybrid" that embeds digital features into OTA signals. Local TV can leverage this for revenue gains by creating new inventory that's localized content, from sports to weather to retail.
The personalization and interactivity possible with NextGen TV will meet consumer demands for engagement. Because of their digital experiences, audiences expect to have choices, interactive elements, and personalization.
The key for local TV will be first to adopt the technology and determine content for this new space that will engage viewers. It will then be about inserting those ads, either in pre- or mid-roll, and doing so in a very targeted way. For example, stations will have data on IP addresses, which is specific about location. Targeting is more precise with this information. If you think about audiences in a large city or area where multiple major cities are, these audiences have different needs and preferences.
Ad Category Updates
The TVB Forward Conference spotlighted many categories in keynotes and in thought leader tracks. Here are a few insights from the category discussions.

Political Advertising
Political advertising saved 2022 revenue for media companies. It's a record-breaking year, with Kantar announcing at the event that the new projection was over $9 billion! The presentation reviewed revenue breakdown with local broadcast TV first, and OTT/CTV gained a considerable share. Competitive primaries and general elections have kept the money flowing for advertisements that likely won't end until election day.

Auto Industry
The auto industry has been a big spender for broadcast TV, but the industry is navigating challenges. Patrick Manzi, Ph.D., chief economist, NADA (National Automobile Dealers Association), presented the session. He advised that dealerships increased 2022 spending over 2021 but haven't returned to pre-pandemic levels. The primary reason is the lack of inventory for the new vehicle market due to chip shortages and other supply chain issues. Manzi doesn't expect stock to rebound until 2024.
So, where are they spending? Broadcast TV still receives a large amount, but some budget is shifting to YouTube and OTT/CTV.
Used cars are worth more than ever because of these market forces. Rising interest rates and lack of incentives from OEMs make new car buying difficult for many. Consumers and fleets are competing for these used cars. While new sales are down, dealerships and OEMs will record substantial profits.
For the future, Manzi noted that hybrid and alternative fuel vehicles would gain market share.

Finance
Financial industry ad spending is up 3% in 2022, according to data from Kantar. The primary driver has been consumer banking. With uncertainty about economic forces, financial companies are taking new approaches. The session on the finance industry featured a local company specializing in retirement. The company chooses to be direct about the challenges occurring, with encouragement to be proactive. One of their TV ads featured a QR code to scan to book a meeting, which seems like a clever way to drive conversions (and track them).

Furniture
Another category that's increased spending in 2022 is furniture. The industry had unique challenges during the pandemic when lockdowns were in force. Now, they are dealing with new ones around supply chains and economic questions looming. A local furniture company shared its story about changing the message. They were once all about price and deals. Now, they've softened that to tell their story as a locally and family-owned business. They realized this was more compelling and aligned with what younger generations value.

Sports Betting
We've been talking all year about sports betting and its boost to local TV ad revenue. However, changes may be ahead that complicate the picture. It's been a local product because legality is at the state level. With more states coming on board, the question in the session was if the dollars would shift to national. The expert from FanDuel said it's complicated. As the footprint grows, it may change their strategy. This isn't true outright, as each state has its own legislation and rules. Additionally, not all sports betting apps are available in all states.
The other big story about sports betting is that California voters will decide whether to legalize it on this year's ballot. If California joins the other 30 states and Washington, D.C., it's a game changer. The number of fans, teams and leagues in the state confirm it will be attractive. This could shift budgets from smaller states or those where one app has the market share.