Audience measurement has long been a key factor in selling TV ad spots. Advertisers and sellers have depended on them, but yesterday's way of measuring TV viewers doesn't align with current consumption. Thus, significant change and modernization are on the horizon to be more accurate and valuable to stakeholders.
So, what will drive these changes, and why do they matter?
The Future of Audience Measurement Must Evolve at the Same Rate as Consumers and Technology Do
For audience measurement to be relevant for the current landscape, it must adapt to meet the market where it is in terms of consumer behavior and technology. Much of this comes down to:
What are you actually counting? People or households? With targeting, counting needs a revamp.
Are there areas you're missing? How do you access them?
Does the measurement capability involve the quality of the content and audiences?
Woven into these questions are all the other factors that impact accuracy and completeness, such as behavioral models, first-party data, validation and segmentation. Confusion is winding its way through the industry, as measurement needs to accommodate many dimensions. The future will shift from exposure and reach models to outcomes and accountability.
What's an Impression?
Another critical factor is how to define an impression. There's no universal measurement, but most tie it to a completed view. However, is that always necessary for the ad to be effective and impactful? It depends on the products, brand visibility, the action to take and the message.
Simple messages from well-known companies wouldn't need viewers to watch them through to the end. A good example is a commercial showcasing a famous sandwich from a quick-serve restaurant. You know it as soon as you see it, which could make you hungry.

Nielsen Isn't the Only Measurement Game in Town
Nielsen has been the primary organization of audience measurement for decades. However, many in the industry lost confidence in its validity after high-profile blunders. In addition, Nielsen is also losing its grip on the market, with streaming now getting a large chunk of viewers. The top streamers, Netflix, Amazon, Disney and YouTube, accounted for a record of 33.7% of consumption in June 2022.
As a result, the industry is seeking alternative ways to consolidate data and provide more context on who is viewing. Nielsen has made strides to be more inclusive with its numbers to represent both traditional TV and streaming. The business that's becoming a favored alternative is Comscore. Its measurement works differently than Nielsen's. It uses data from cable set-top boxes versus panel households.
Some networks, like NBCUniversal, are also investing in or partnering with newer players to develop better measurement tools.
Other options are becoming more visible as Nielsen falls out of favor, including iSpot.tv, Oracle and TVSquared.
The key to valid measurement is a cross-channel approach, as OTT/CTV grabs more ad dollars.
Ad Dollars for OTT/CTV to Grow While Traditional TV Stays Flat
Another reason audience measurement effectiveness matters is that OTT/CTV ad-supported streaming will see continued growth in 2023, with projections of $23.9 billion, a 27% increase over 2022. Linear TV will dip to $66.31 billion, a 3% decrease, likely a consequence of no political cycle.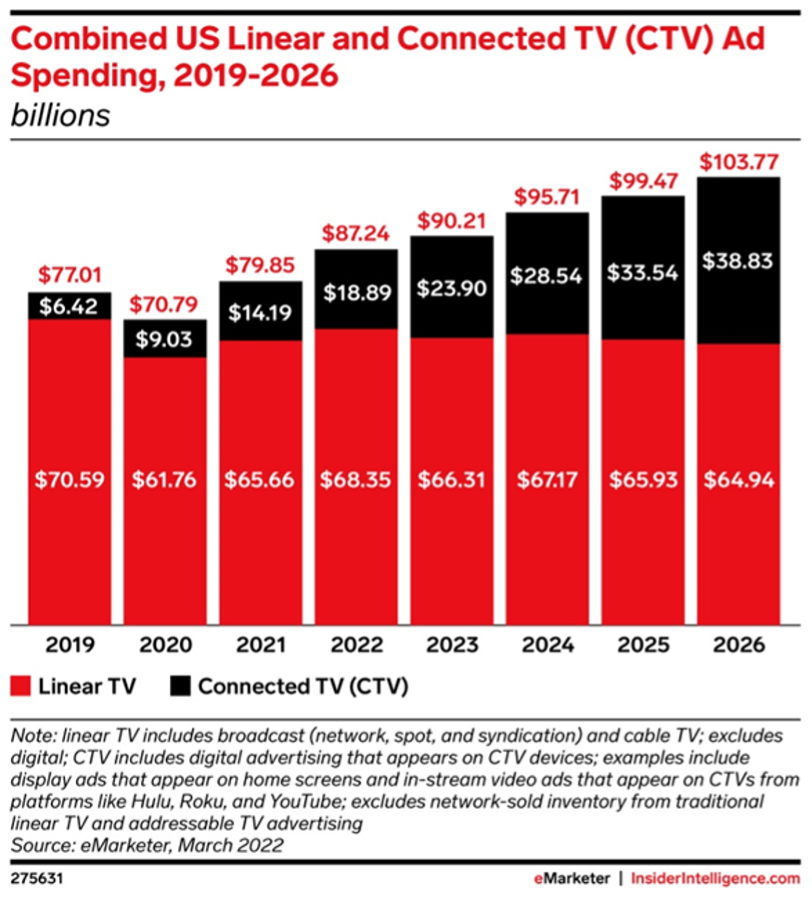 Image: eMarketer
Even with all these tools that consider cross-channel viewing, gaps remain in measurement.
Measurement Gaps Remain
While there are many solutions, measurement gaps are still present. A report from TVB looked at video media devices and usage. It gathered data on:
The number of TVs in a household: The average is 2.7, with 22.5% of households having four or more.
The behaviors of watchers around sound and closed captioning: One-third of watchers do so on mute, turn on closed captioning, or use earphones, earbuds or hearing aids.
How households receive video programming: The majority (48%) is through cable, with 42% via streaming devices connected to TVs and another 34% through smart TV streaming.
Live local content access: 91% of households can view this on at least one TV set.
These factors imply more nuance for accurate audience measurement. For example, if one-third of viewers use alternative audio options, how does that impact ad delivery and engagement?
The Future of Measurement Is Hybrid
Hybrid measurement of TV audiences is gaining traction. In this approach, the focus is on:
Improving panel measurement of TV viewing beyond traditional ways, which would include integrating different measurement systems (e.g., core panel, return path data and out-of-home numbers) to portray a more realistic view by the individual
Measuring online viewing by combining panel and census data, considering that on-demand content is viewable any time
Including more people in return path data
With these strategies, the data on who is viewing and when becomes more reliable.
A hybrid framework would also resolve issues around TV viewing fragmentation. Devices, platforms and streaming services provide much data, and most of it currently lives in silos. A platform that can consolidate data and analyze it could be the core component of future measurement.