A gap in the broadcast sales technology market has existed for some time. Salespeople must use traffic systems and other disparate applications to manage the proposal, order and rate process. Others that claim to be integrated still lack key functionality, sometimes available for a premium. To revolutionize broadcast selling, we developed Marketron REV, a broadcast sales platform built for sellers. It reduces pain points around inefficiencies, allows you to price smarter and delivers real-time insights.
With this new technology, you can empower your sales team to improve productivity, accuracy and revenue opportunities from a single system. Let's look at why REV is a true sales growth platform.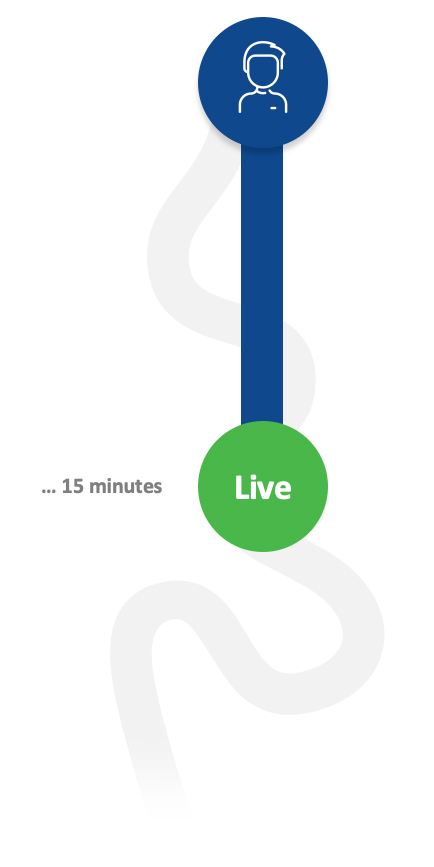 Say Goodbye to the Sales Swivel Chair
From proposal to order, your sellers have to go back and forth in multiple systems. Those could be traffic systems, proposal templates, spreadsheets, CRM systems, yield management tools and more. This decelerates the sales process and restricts your sellers. They spend more time doing admin work and have a higher error rate with all these manual tasks. As a result, it decreases the time they have to sell.
REV streamlines proposals and orders and doesn't require accessing other systems. You can look up contact and account details and then create a proposal, confirming avails based on real-time data from your traffic system. Rates are there too, with REV's dynamic pricing tool that optimizes every spot. You can then convert the proposal to an order with no re-entry needed. Reviews and approvals are much simpler.
What once took hours can now be completed in about 15 minutes. Enterprise sales teams can get 70 hours back each week to focus on revenue generation tasks.
Better Order Accuracy Reduces Errors
Without a streamlined, integrated process, salespeople must manually re-enter information, such as when re-keying a proposal as an order in a traffic system. REV eliminates this step, so errors should dramatically decline. In turn, you may have fewer makegoods or rate corrections.
Accuracy in avails is also critical. Real-time traffic data is digestible by REV. It's compatible with many traffic systems, including WideOrbit. This information leads to proposals that reflect current availability, making things smoother for your traffic department. Additionally, integrated approvals from sales managers and traffic flow as they should and help you avoid makegoods.
Yield Management Drives 5% Top-Line Revenue Increases
Another sales-centric core competency of REV is its dynamic pricing or yield management tool. It does the rate work for you and optimizes spot pricing based on:
Demand and availability for the spot
Historical data
Timelines
Other key factors
You have some controls you can put in place to guide pricing, with the ability to set floors, ceilings and discount tolerances by 30-minute blocks.
REV includes 35 prebuilt rate curves to support any pricing strategy. That could consist of letting the rate increase with no ceiling for high-demand inventory or flat lines for low-demand, overnight timeframes. Nielsen and Numeris ratings data is also accessible in REV.
Adopting this new way to price increases your linear inventory revenue without creating more of it or requiring more sales staff. Now is the time to transform how you price, leveraging data instead of intuition.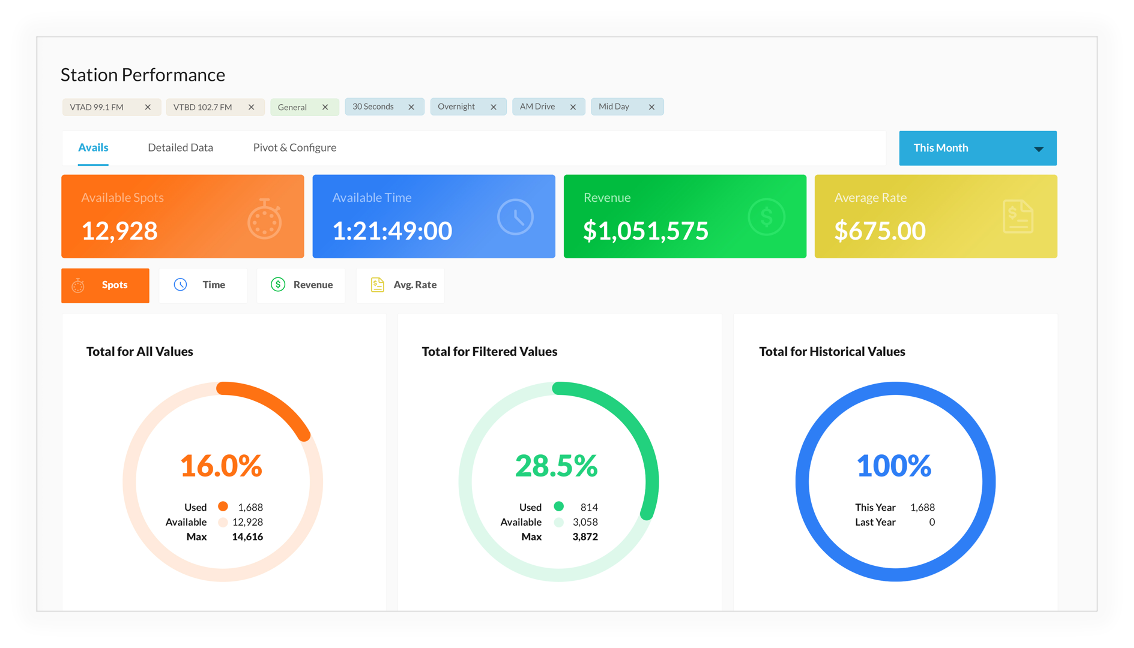 REV Includes Reporting You and Your Sales Team Will Love
Reporting and analytics are critical for sales team forecasting and pipeline visibility. If you're unable to create this now, you're missing out on insights. Or, you may have the data, but working it into a structure to glean insights is manual and frustrating.
REV lets you track real-time data with a visual, intuitive dashboard that highlights key metrics around seller performance. As a manager, you'll be able to determine if you're hitting budget and what's coming down the funnel, and you can identify sellers who may need guidance.
REV reporting isn't just internal. Your sellers can also run campaign performance reports to share with advertisers. In addition, you can export all the data in a CSV file to further analyze and manipulate.
Managing Customers Is Easy with REV's Broadcast CRM Tool
REV also includes a broadcast media CRM tool that aligns with sales processes. That's unique, as many CRM designs focus on many types of users and aren't customizable for the broadcast industry. You'll be able to tap the CRM tool for proposal creation, saving you entry time.
A CRM tool can be a great place for your sellers to store information about the customer and monitor active proposals. Keeping customer data here also keeps traffic data clean.
Functionality Consolidation Can Save You Money
If you're using a variety of solutions now to execute different parts of the process, your subscription fees will only keep rising. Many broadcast sales platforms nickel-and-dime you for every added feature. With REV, it's all included for one price. You can then eliminate costs around standalone widgets for CRM, yield management, proposal creation and reporting.
REV Users Get Support for Success
Implementing new technology can be a chaotic time. We've defined an onboarding and customer support model that makes the change less painful. It starts by helping you define success, training users and platform testing. Post-launch, you'll receive 30- and 90-day reviews with our team of experts. You'll always have access to on-demand resources in the Marketron Learning Center and responsive support.